SUZANNA SCOTT
Deemed A Canvas
1/21/2018
Artwork by Ellen Greene
,
Suzanna Scott, Danielle Clough and Ruby Silvious
Paradigm Gallery
and
HAHA MAG
(High on Art, Heavy on Antics), collaborate to bring you
Deemed a Canvas
, a group exhibition on view January 26 – February 17, 2018.
Deemed A Canvas c
hannels storytelling through a range of artistic mediums. This curation of creators takes a light-hearted look at what happens when artists break away from the starkness of white ground to explore surface with unexpected materials and unconventional methods.
Traditional mediums tossed aside; their work becomes a creatively visual opp-ortunity to converse, to find new and inventive ways of handling space, structure, and content-transforming the material so that it becomes something else than the novelty of the article itself.
Artists

Kaplan Bunce

,

Danielle Clough

,

Ellen Greene

,

My Dog Sighs

,

Bunnie Reiss

,

Brooks Salzwedel

,

Suzanna Scott

,

Ruby Silvious

, and

Jasjyot Singh Hans

use their skills and love of art to develop unique narratives.
The show's collision of perspectives offers the viewer an immersive experience into creative redevelopment that pays reverence to the foundation of concept and innovation.
Deemed A Canvas
January 26 – February 17, 2018
Paradigm Gallery / 746 S 4th Street, 1st Floor, Philadelphia, PA
Opening Reception: Friday, January 26th • 5:30pm - 10:00pm
Gallery Hours: Tuesdays, Thursdays, and Saturdays • 12:00pm – 6:00pm
---
The Price of FGM
12/4/2017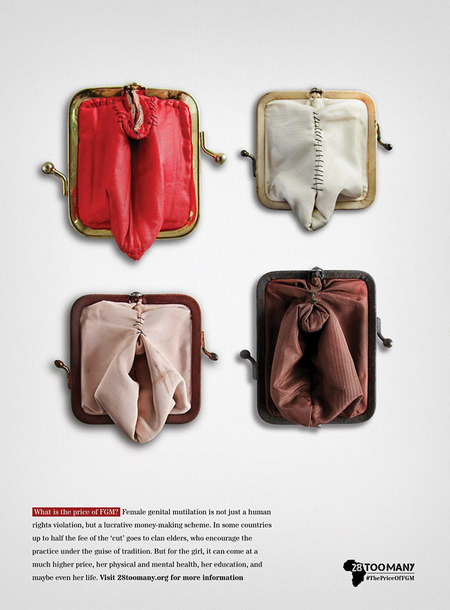 Sharing this impactful
28 Too Many
ad campaign aimed to raise awareness of the real price of FGM (
female genital mutilation
).
Paul Gregson
and Jono Flannery, a creative duo, designed this powerful ad campaign using my
Coin Cunt
images.
FGM is a harmful traditional practice involving the cutting or removal of the external female genitalia. It has existed for more than 2,000 years and is performed on girls from birth, up to just before marriage, and sometimes beyond.
It is estimated that more than 200 million girls and women alive today have undergone female genital mutilation in the countries where the practice is concentrated. Furthermore, there are an estimated 3 million girls at risk of undergoing female genital mutilation every year. The majority of girls are cut before they turn 15 years old. FGM has been documented in at least 30 countries, mainly in Africa, as well as in the Middle East and Asia. It is also prevalent in diaspora communities around the world,
even in the United States.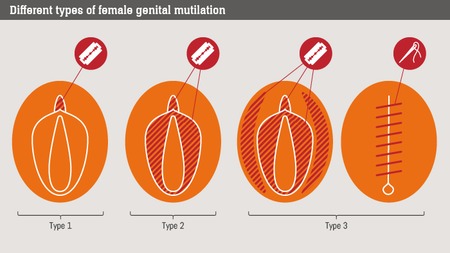 Source image via DW.com
For traditional cutters, FGM is their livelihood. It is often seen as a lucrative job. But for girls and women it can lead to psychological problems, higher risk of infections & HIV, pain during sex, complications & even death in pregnancy or childbirth. While some are making money out of FGM, it's quite clear who pays the real price.
The British based organization
28 Too Many
is dedicated to ending female genital mutilation everywhere. Their work focuses on the 28 African countries where it is practiced and in many other countries where it continues, often in spite of laws against it. Please visit
28 Too Many
to find out how you can help end this horrific practice and save the futures of so many young girls.
---
Vulvacular
10/27/2017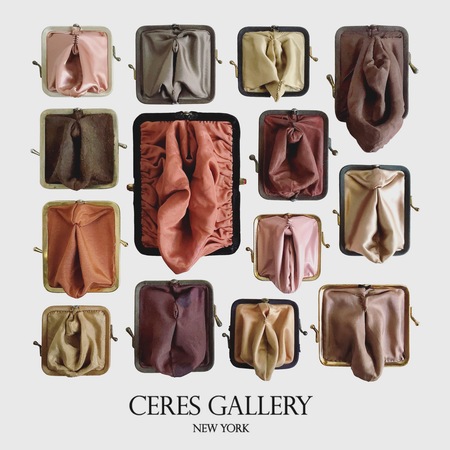 I'm delighted to have my flesh colored grouping of
Coin Cunts
included in
Vulvacular
, a timely exhibition celebrating the rise of the vulva at
Ceres Gallery
in New York City. Artist/curators Susan Kaplow and Pam Shields have brought together the work of 19 artists whose take on the vulva is hilarious, sexy, poignant, searing and political. Works from the gallery show may also be viewed via the
exhibition website
.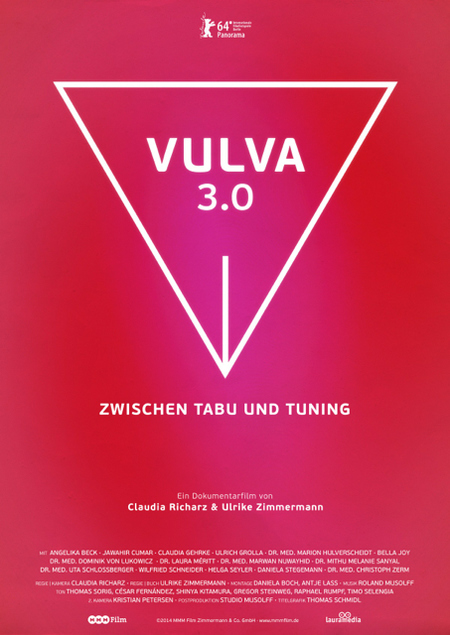 In conjunction with
Vulvacular
,
Ceres Gallery
will present a free screening of
VULVA 3.0
, a documentary surveying attitudes towards female genitals through history to the present.
Vulva 3.0
demonstrates the current attacks on and degradation of the vulva and the forms of resistance to these attacks by educators, scholars and activists. Three artists will comment after the film, highlighting the ways in which their art practice is another form of resistance.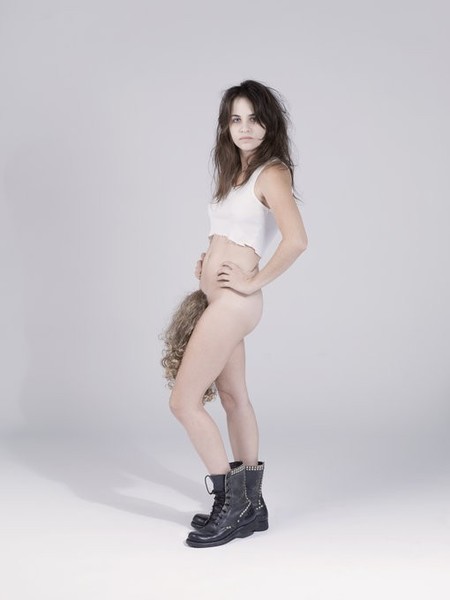 Rhiannon Schneiderman, Lady Manes #1, digital photograph, 2012
Participating artists:
Jaishri Abichandani
,
Cristina Biaggi
,
Dorothy Black
,
Ana Wieder Blank
, Dare Boles,
Tee Corinne
,
Betty Dodson
, Susan Duby,
Laura Gelsomini
, Carol Goebel,
Sally Hewett
,
Susan Kaplow
, Tania Kravath,
Dorrie Lane
,
Judith Margolis
,
Sana Musasama
,
Phyllis Rosser
,
Suzanna Scott
,
Pam Shields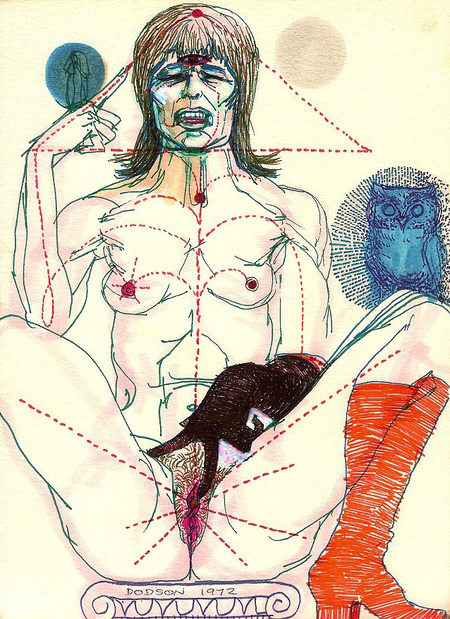 Betty Dodson, Body Mind Spirit, magic marker drawing, 1972
---
IDAFT: Los Angeles
10/3/2017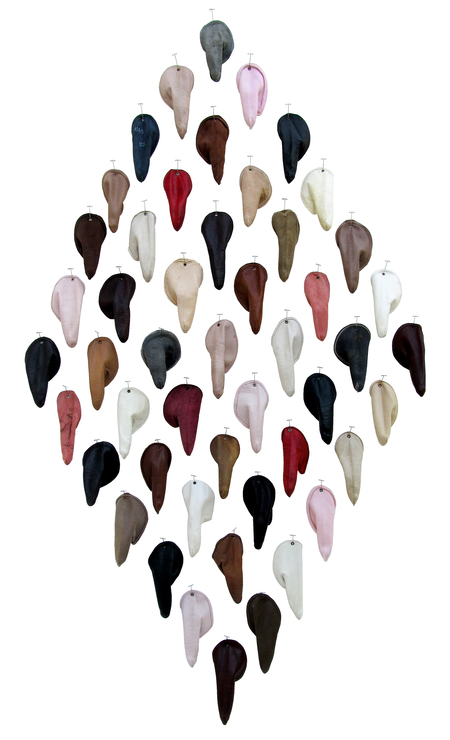 Whitney Bell's
I Didn't Ask For This: A Lifetime Of Dick Pics
is back--this time in her hometown of Los Angeles, California. She is hosting the weekend event with the goal of exposing the normalization of misogyny and confronting the issue of sexual harassment in the digital age. In addition to a Friday night
Penis Party
, featuring a plethora of unsolicited dick pics staged in the comfort of her own home,
Whitney
has invited a kickass line-up of feminists to join discussion panels on Saturday. The topics include
Feminism 101 For Men
,
Harassment In The Digital Era
and
The Intersection of Feminism & Pornography
. Shirley Manson, the front woman of
Garbage
, is one of the panelists!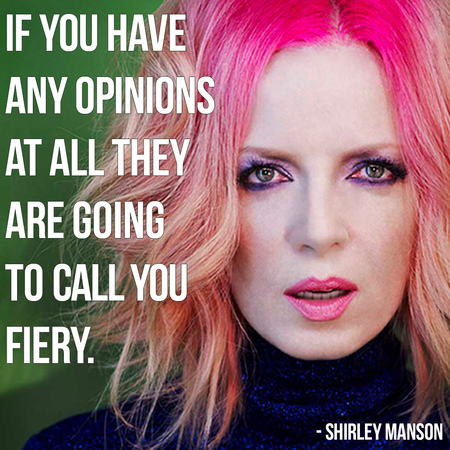 Along with the installation featuring
Whitney's
collection of unsolicited dick pics,
I Didn't Ask For This
will exhibit the work of a diverse mix of of over 20 artists who span the spectrums of gender, race, and sexuality to give an intersectional perspective to sexual harassment in the digital age. In addition to a grouping of my
Coin Cunt's
, my newest installation piece dubbed
Thumbs Down
will be making its debut.
Thumbs Down
was created using the thumbs of vintage women's gloves. It is a not so subtle statement on the flaccid performance of our pussy-grabber-in-chief.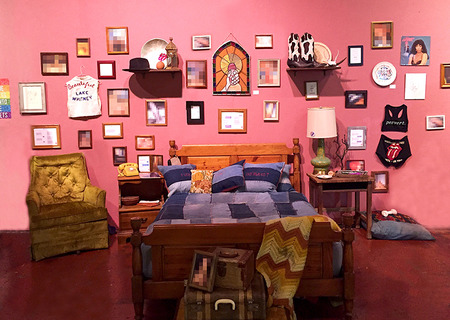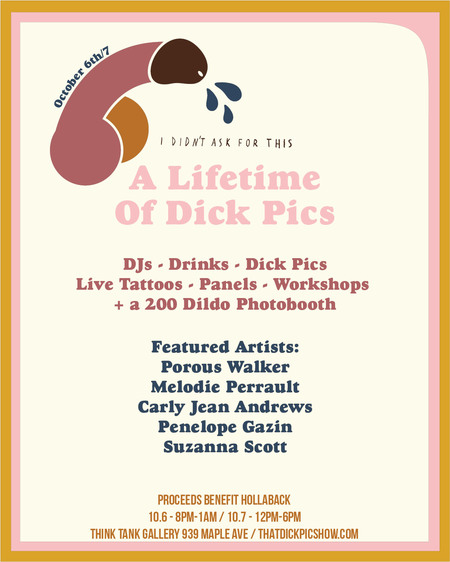 ---
Seen And Heard
9/25/2017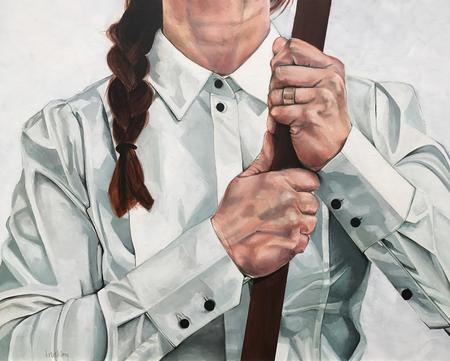 Protest
by
Lena Rushing
Earlier this year I was invited by artist and curator
Lena Rushing
to participate in
Seen And Heard
, an exhibit paying homage to the women's rights movement. Included in the exhibition are a grouping of my
Fiber Fetishes
, interactive
Bound Scissors
, and a new wall sculpture created specifically for this show titled
Out Of Reach
.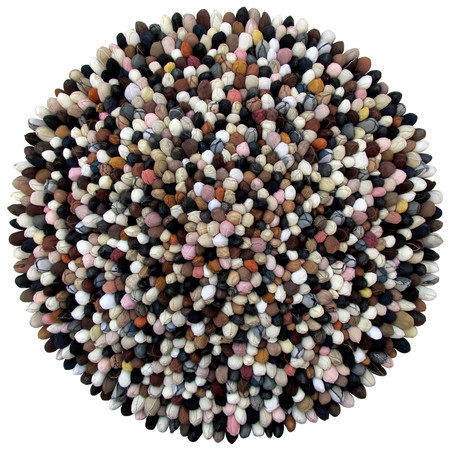 I spent the first part of the year scavenging up all the vintage women's gloves I could find in order to create
Out Of Reach
. In the sculpture, I stitched the fingers from these various gloves onto a metal grate to form a compact, round cluster reminiscent of a breast. The piece represents the hands of all the women who have strived, fought, toiled, and persisted in the ongoing fight for equality for all. We celebrate those before us and join hands as we move forward together--reaching out and shattering those glass ceilings.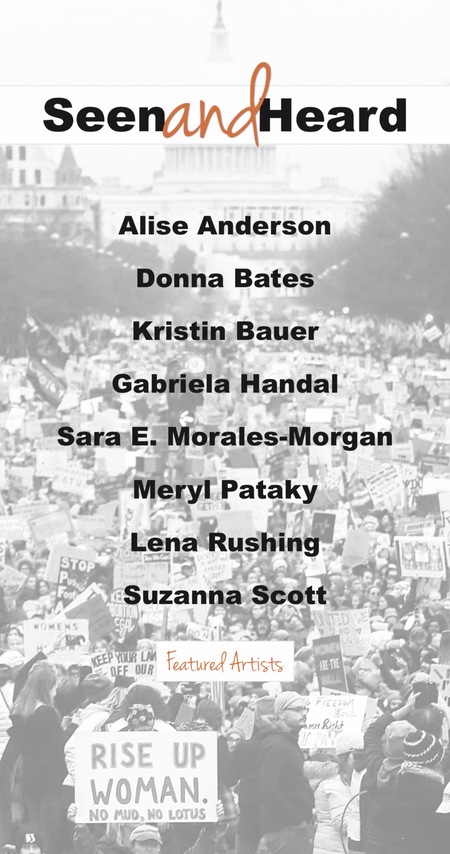 Designed to celebrate the efforts and accomplishments of women, the importance of the women's rights movement, feminism, and the strength, independence, and bravery of women,
Seen And Heard
offers a powerful collection of artwork by eight nationally-acclaimed artists:
Alise Anderson
,
Donna Bates
,
Kristin Bauer
,
Gabriela Handal
,
Sara E. Morales-Morgan
,
Meryl Pataky
,
Lena Rushing
and
Suzanna Scott
.
---