SUZANNA SCOTT
Fiber Fetishes
9/5/2018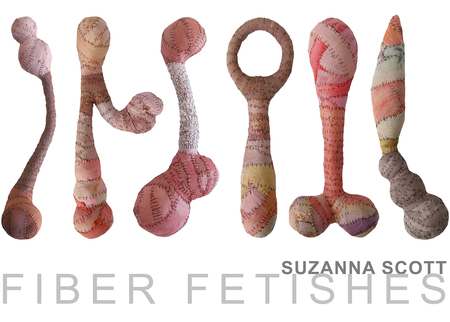 'My Fiber Fetishes explore the intricate web in/of our reproductive bodies and throughout the natural world. A tangle of coital life, I observe the animate and inanimate—­ovaries, stamens, fertility fetishes, sex toys and contraceptive devices. I endeavor to meld the endless labyrinth of time and sensual memory through repetitive wrapping and stitching.' Suzanna Scott, 2018

Suzanna Scott / Fiber Fetishes
Morrison Gallery / Humanities Fine Arts Building
UNM Campus, Morris, Minnesota
September 6 - October 6, 2018
Opening reception: Sept 6th 4:30-6 pm
---
CHAOS 2018
8/3/2018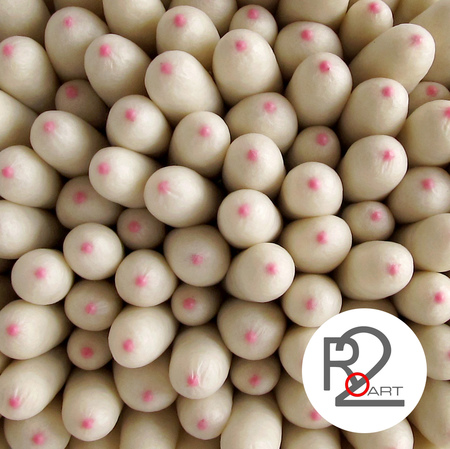 Six of my pieces are included in
CHAOS 2018
, an annual exhibition of small works at
Ro2 Art
in Dallas, Texas.
CHAOS
promises to be a vibrant, expansive exhibition of intimately scaled artworks from a wide variety of artists. While most of the exhibiting artists hail from the North Texas region, the show will also feature a few prominent artists from around the U.S. and Europe. As in previous years, the artists represented by the gallery are joined by invited guest artists, creating a dynamic unique to
Ro2 Art's
CHAOS
exhibition.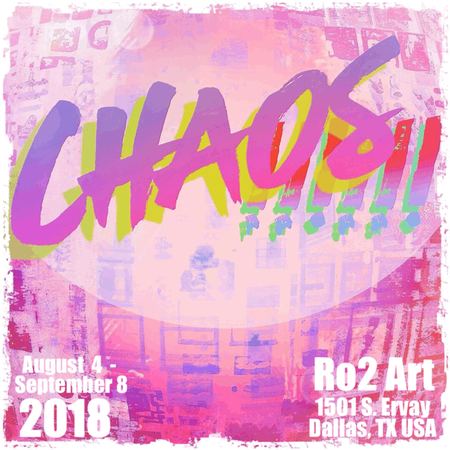 CHAOS 2018
Ro2 Art / 1501 S. Ervay Street, Dallas TX
August 4 to September 8, 2018
Reception, Sat August 4, from 7-10 pm
---
Still Talking About It
7/19/2018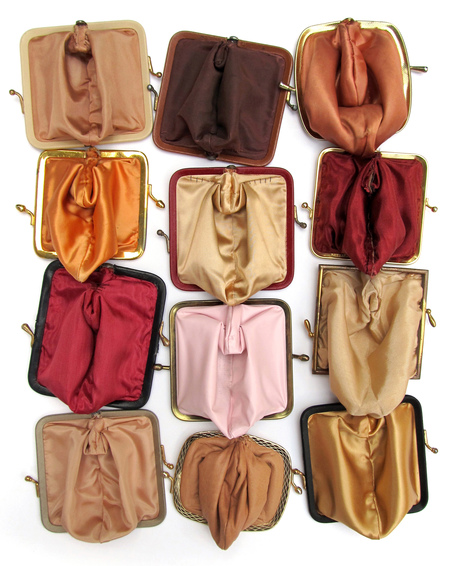 Coin Cunts
, vintage coin purses and thread by
Suzanna Scott
Paradigm Gallery + Studio
is pleased to announce two concurrent exhibitions:
Still Standing
, a solo show by
Lauren Rinaldi
, and
Still Talking About It
, a group exhibition of new works by
Danielle Clough
,
Andrea Farina
, and
Suzanna Scott
. On view from July 27, 2018 until September 15, 2018,
Still Standing
is a focused solo presentation of oil self-portraits, marking a continuation of Rinaldi's representation of the female form through a personal lens.
Still Talking About It
, the group exhibition, brings together the works of Clough, Farina and Scott to explore the diversity of women's collective experiences. Together, these distinct exhibitions explore the personal and universal struggles women face in today's society.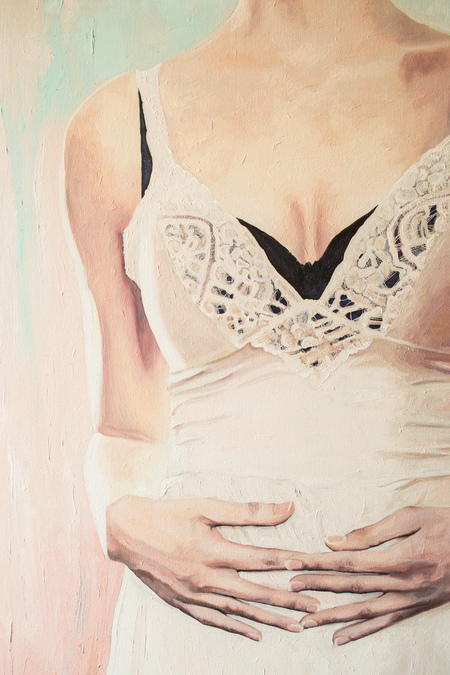 Still Standing
(detail), oil on canvas by
Lauren Rinaldi
Still Standing
includes twenty-four large and small scale paintings by Lauren Rinaldi. Rinaldi's delicate brushstrokes and soft coloration do not mask the strength embedded in the portraiture. Most of the works in
Still Standing
are sourced stills from videos that Rinaldi takes of herself as she gets ready in the morning. These videos act as a basis for her work and help her convey the natural movement often missing from depictions of the female form. While Rinaldi's portraits are modeled after her own body, they communicate stories of universal importance in our contemporary moment. Focusing closely on particular regions of the body––legs, heads, torsos––Rinaldi detaches the image from the self-portrait, instead offering psychological representations that manifest societal pressures that affect her as a woman, particularly as an artist, mother and civic leader. "These works deal with ideas about what it means to be a woman: the different roles we play, the different stages in our life, the different archetypes that are required of us and the different ways that we are expected to be. Not only expectations that are put on us, but our own expectations that we put on ourselves." Rinaldi states.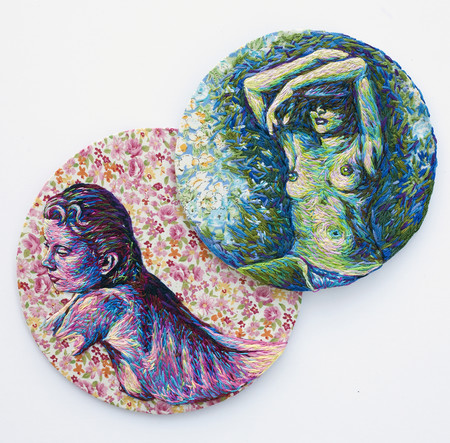 Playgirls
, embroidery thread on fabric by
Danielle Clough
Also located in the gallery,
Still Talking About It
, a group exhibition of new works by Danielle Clough, Andrea Farina and Suzanna Scott, showcases the various ways in which contemporary textile art is used to represent the female form. All three artists use their work to explore inclusive ideas of womanhood and feminine identity. Clough's stylized needlework begins with found vintage images of playboy models. Through her colorful, textured approach and layered dimension, she diverts these images' original purpose by giving them a new space. Farina's delicate embroidery on fabric depicts the female form from a more ambiguous approach. The thoughtful subtraction of identifying details creates a more universal figure. Finally, Scott brings twelve new sculptures to
Still Talking About It
as a part of her
Coin Cunts
series that she began in 2015. Found vintage silk and vinyl coin purses are turned inside-out and stitched to allude to the female anatomy. When discussing the series, Scott says, "A tease to the imagination, these transposed objects challenge our visual and cultural associations of women, money, and power." The series is meant to raise awareness about the social, political, and economic plights of women globally through the powerful imagery.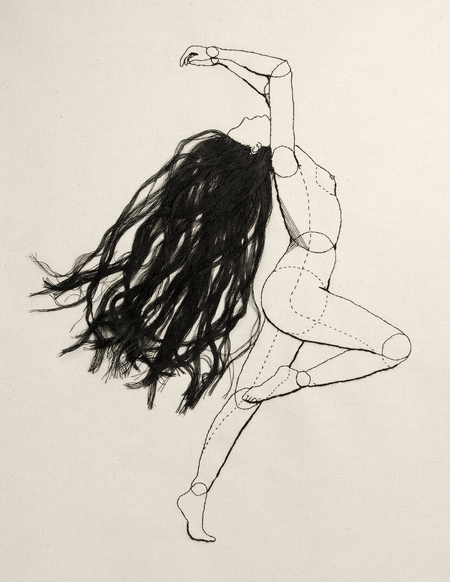 Cascade
, thread on canvas by
Andrea Farina
"We've organized
Still Standing
and
Still Talking About It
with these artists as a way to encourage a conversation that embraces women fully and without judgement. When we talk about the issues that the exhibitions revolve around, objectification, expectation, and inequality, we can find ourselves needing to take a deep breath and a step back. Exhaustion is involved, for sure, but these problems are important and we need to keep talking about them with strength behind our convictions," says Gallery Co-Founder Sara McCorriston.
Still Standing:
a solo exhibition by
Lauren Rinaldi
Still Talking About It:
a group exhibition by
Danielle Clough
,
Suzanna Scott
, and
Andrea Farina
July 27 – September 15, 2018
OPENING RECEPTION
Friday, July 27, 2018 5:30 – 10pm
CLOSING RECEPTION
Friday, August 24th • 5:30pm - 10:00pm
EXHIBITION HOURS
Tuesdays, Thursdays, and Saturdays • 12:00pm – 6:00pm
And 7 days a week by appointment: info@paradigm-gallery.com / (267)266-0073
LOCATION
Paradigm Gallery + Studio
/ 746 S. 4th Street, 1st Floor / Philadelphia, PA 19147
---
The 55th Annual Juried Competition
7/8/2018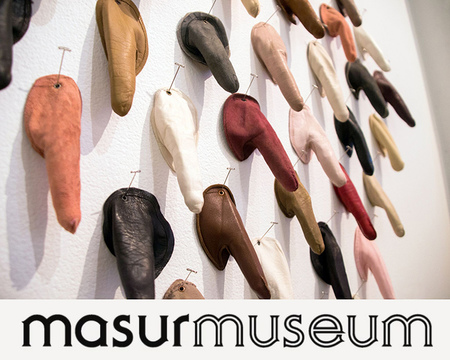 I'm pleased to have my wall installation,
Thumbs Down
, included in the
55th Annual Juried Competition
at the
Masur Museum of Art
in Monroe, Louisiana. The museum's annual event showcases contemporary artists throughout the United States of America working in a variety of mediums. This year's curator is
Joel Parsons
, an artist and teacher based in Memphis, where he is the Director of Clough-Hanson Gallery at Rhodes College and Assistant Professor in the department of Art and Art History. His curatorial practice is often collaborative and driven by a desire to bring institutional resources to bear on conversations of equity and marginality.
Participating Artists include John S. E. Alleyne (LA), David Andree (AR), Elizabeth Arden (PA), Ariel Baldwin (IL), LeeLee Brazeal (TX), Amelia Briggs (TN), Kristen Brown (CA), Jesse Butcher (TN), Susan Chambers (AR), Dean Dablow (LA), Douglas Degges (IL), Michael DeLuca (PA), William Dooley (AL), Leah Drake (SC), Ann Marie Fitzsimmons (NJ), Mark Gordon (NC), Robert Gordon (AR), Gao Hang (TX), William Hays (VT), Joseph Holsapple (LA), Gerard Huber (TX), Jennifer Hunt (SC), Manami Ishimura (TX), Perry Johnson (TN), Kevin Jones (LA), Hannah Kozlowski (WV), Neema Lal (NY), Francine LeClercq (NY), George Lorio (MD), Stacy Medaries (LA), PJ Mills (FL), Charles Mintz (OH), Lacy Mitcham (TN), Daniel Moore (LA), Joshua Newth (MO), Stefan Nodarse (IN), Alan Pocaro (IL), Pam Schmidt (CO), Robert Schwieger (IL), Suzanna Scott (LA), Courtney Sennish (CA), Parker Seward (AL), Ricky Sikes (LA), Juvana Soliven (HI), Corrie Steckelberg (MN), Melissa Wilkinson (AR), Liz Zanca (LA).
The 55th Annual Juried Competition
Masur Museum of Art
1400 South Grand Street, Monroe, LA
July 12th — October 13th, 2018
Reception: Friday, Aug 24th, 5:30 - 7:30 pm
---
The Vavengers
4/30/2018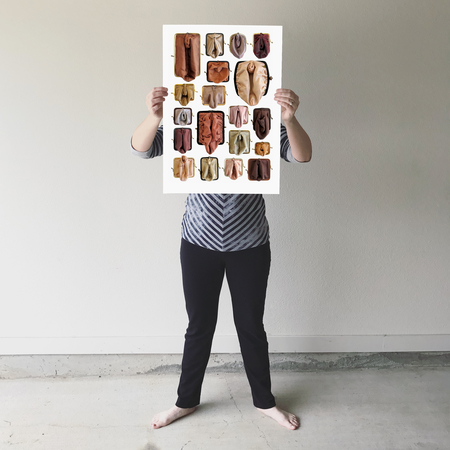 A pair of my
Coin Cunt
prints will be featured in
The Exhibition
this month in London. This is an event sponsored by
The Vavengers
(vagina avengers), a creative community who raises awareness through the arts to tackle and end the practice of
FGM
(female genital mutilation).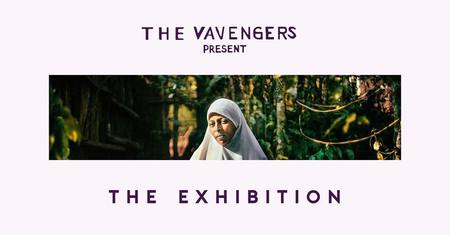 The Exhibition
is an evening featuring a variety of artwork based around the female form/experience and several musical performances. The aim is to use art as a vehicle to inspire discussion and bring creatives together to raise awareness for important social issues. All proceeds of
The Exhibition
will go towards the building of a fistula ward in
SOS Mother & Child Hospital
in Mogadishu, Somalia where thousands of girls have been disregarded because of
FGM
inflicted injuries. A simple proceedure is needed to fix a fistula, yet millions of girls are being ostracised because of the lack of understanding and medical attention around the problem. The money raised will ensure girls are given the physical and emotional support required when suffering from a fistula.
---
Fantastic Fibers
4/10/2018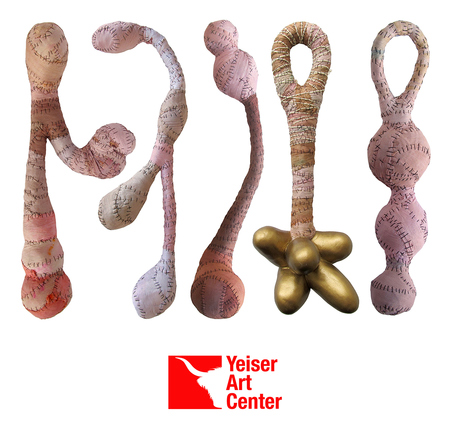 It's an honor to have an installation of my
Fiber Fetishes
on display at the
Yeiser Art Center
in Paducah, Kentucky as part
Fantastic Fibers 2018
. Opening this Friday, the show is an international juried exhibition that seeks to showcase a wide range of outstanding works related to the fiber medium. One of Yeiser Art Center's most engaging, innovative & colorful international exhibits,
Fantastic Fibers
is an inspirational "must see" for fine artists, quilters and textile art enthusiasts across the globe.
This year's juror,
Arturo Alonzo Sandoval
, is a fiber artist whose experimental techniques and expressive interpretations have earned him an international reputation. Arturo is one of Kentucky's most original, influential and significant artists. Because he creates an extensive collection of work his artwork is everywhere. His work is in the collections of the New York City Museum of Modern Art's Architecture and Design Collection, as well as galleries and private collections throughout the United States and the world.
The show began in 1987 as a wearable art show but has evolved over the years to include a compelling mix of traditional and non-traditional works created from natural or synthetic fibers, and work that addresses the subject or medium of fiber. The
Fantastic Fibers
exhibit is an
American Quilter's Society
sanctioned event and selected works will be seen by thousands of viewers. Paducah becomes a Mecca for quilters and quilt enthusiasts each April as more than 30,000 visitors from across the globe attend
AQS QuiltWeek
. This year's
AQS QuiltWeek
dates are April 18 – 21, 2018.
Fantastic Fibers
Yeiser Art Center
200 Broadway St, Paducah, KY
April 14 - June 9, 2018
Opening Reception: Apr 14th, 5-7 pm
Selected Artists 2018:
Jackie Abrams
,
Dobree Adams
,
Philis Alvic
,
Eva Camacho
, Marah Carpenter, Gray Caskey,
Oxana Dallas
,
Jan Durham
,
Caryl Bryer
,
Jayne Gaskins
,
Caryl Gaubatz
, Paula Giovanini-Morris, Sue Hale,
Faith Humphry Hill
, Ja Young Hwang, Marguerite Kellam,
Patricia Kennedy-Zafred
,
Mary Ellen Latino
, Margaret Leininger,
Niraja Lorenz
, Margo Macdonald, Lawrence McKenney,
Rebekah Miller
, Patricia Mink,
Chris Motley
,
Carey Netherton
,
Kathy Nida
,
Pat Pauly
, Branka Radonic,
Michael Rohde
, Elizabeth Runyon,
Tommye Scanlin
, Beth Schnellenberger,
Suzanna Scott
,
Jess Self
,
Ashley Smith
,
Tina Struthers
,
Jill Vendituoli
,
Beverly Walker
,
Wendy Weiss
,
Peggy Wiedemann
---
No Man's Land
2/26/2018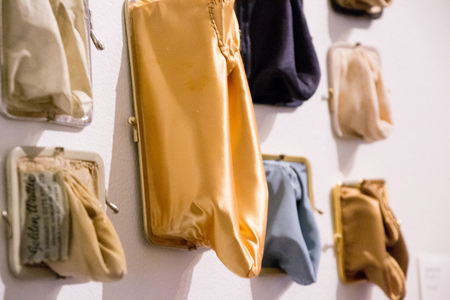 Here's another opportunity to view a collection of my
Coin Cunt's
in
No Man's Land
opening this Friday at
The Yard's Collective
in Rochester, NY.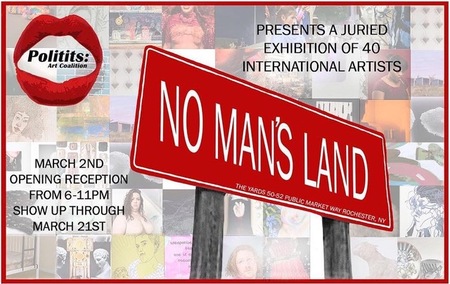 Politits: Art Coalition is proud to announce our second annual exhibition focused on promoting artwork by those who have been historically under-represented throughout the arts, 'No Man's Land'. This year, we have accepted work from 40 international artists, focusing on pieces by female-identifying, POC, queer, trans and any other two-spirited folks, that celebrates diversity in practice and strength in vision. Curating a visually diverse, yet cohesive, show that offers much in the way of materiality and topic, we champion ourselves in offering space to artists from Rochester and beyond to exhibit their work without censorship.
'No Man's Land'
Politits
@
The Yards Collective
50 Public Market Way, Rochester, NY
March 2 — March 21, 2018
Opening reception: March 2 @ 6-11 pm
---
The Bitters 2
2/19/2018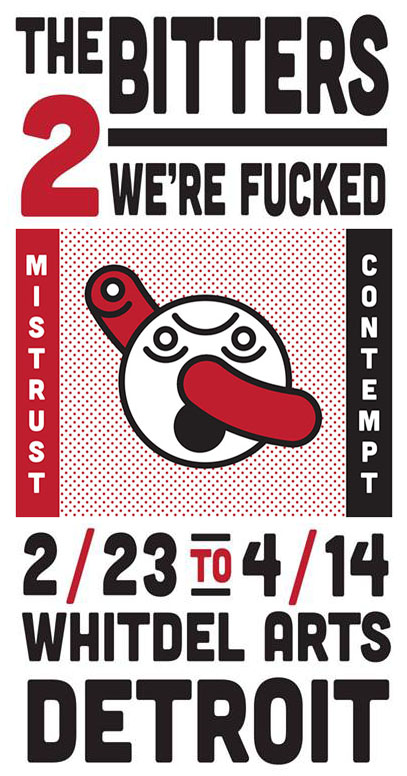 My wall installation, '
Thumbs Down'
, is to be included in
'The Bitters 2: We're Fucked'
opening this weekend at
Whitdel Arts
in Detroit, Michigan. The exhibition will feature a cathartic array of work by over 30 artists from all over our stress-out country.
In times of cynicism, disgust and hopelessness, we look for outlets to express our frustrations, as well as our aspirations for action and change. We decided to take one of our favorite exhibitions and reboot it in this current time of disillusionment and subjective truth. "The Bitters 2: We're Fucked" explores how we currently cope with lies, greed, conflict, inequality, and paranoia - with all the sarcasm, and overall disenchantment that made the first "The Bitters" exhibition so satisfying.

While all ages are welcome, please know this exhibition might make you laugh, make you uncomfortable or even straight up make you angry. Not all work may be appropriate for young or sensitive viewers.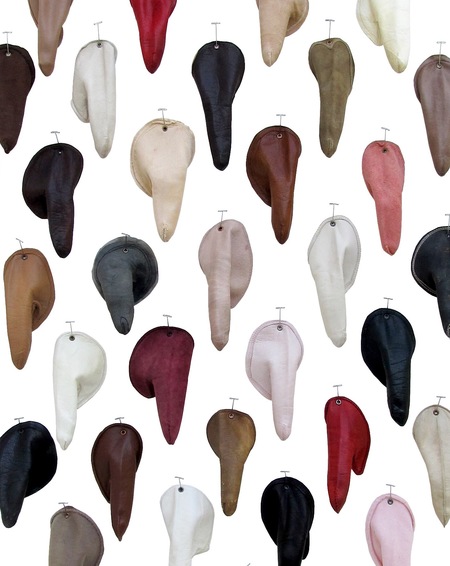 'Thumbs Down' is a not-so-subtle statement on our pussy-grabbing commander-in-chief who loves himself some good ratings and flashes a thumbs up wherever he goes. I cut the thumbs off of a variety of women's leather gloves. By using gloves of various hues the thumbs represent the range of people who disapprove of the resentful, sexist, bigoted and hateful rhetoric by the president's campaign and administration. Each 'thumb' has been placed on the wall with a T-pin, like a prized specimen of impotency. Stepping back we gaze on a diamond-shaped array of flaccid phalli. This visual display of bad ratings becomes a portal of united hope or at least it makes us chuckle and feel a little bit better for the moment.

The Bitters 2: "We're Fucked"
Whitdel Arts / 1111 Bellevue St., Suite 110, Detroit, MI
Exhibition dates: February 23rd - April 14th, 2018
Reception: February 23rd, 7-10pm
---
Recent Press
2/18/2018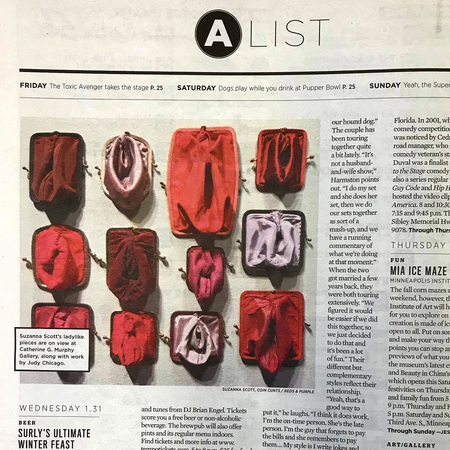 Fun to make the '
A-list' in the Twin Cities! I'm honored to have my work in a dual exhibition, 'After: Birth', alongside Judy Chicago's
'Birth Project: Born Again'. The exhibitions run through March 16th at the Catherine G. Murphy Gallery in St. Paul, Minnesota.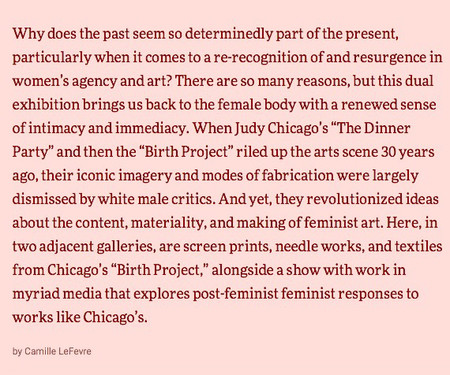 And an interivew feature in the
Philadelphia Weekly
where I talk about my work, how the 'Coin Cunt's' came about and my personal ties to the city.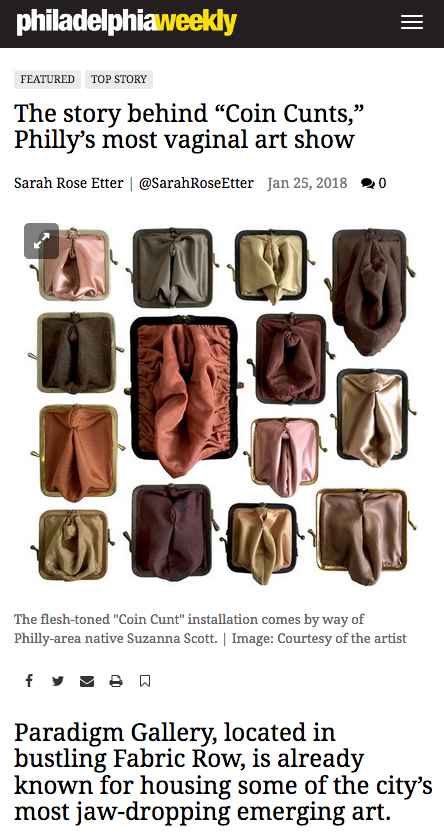 ---
After: Birth
1/29/2018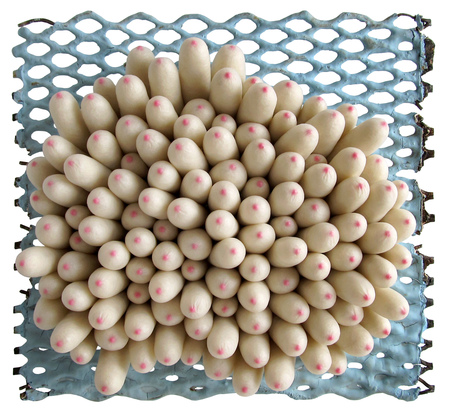 Festooned, 2016 by Suzanna Scott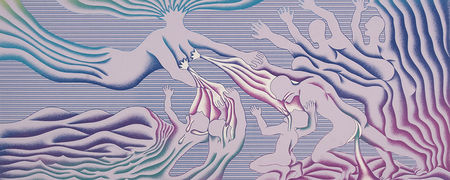 Judy Chicago's work radically shifted ideas, materials and processes in the feminist art created after
The Dinner Party
and the
Birth Project
,
giving way to two generations of artists free to explore and challenge the constructs that define them as women and women artists.
After: Birth
specifically addresses contemporary responses to the concepts of motherhood, sexuality and the role of embroidery, clay, fibers and photography in third-and fourth-wave feminist art.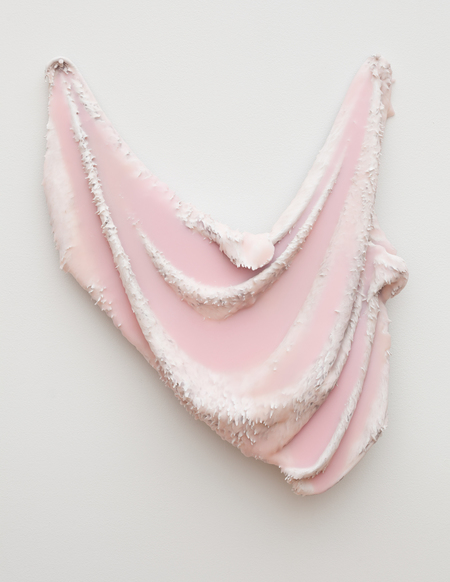 Solace by Amber Cobb / silicone and blanket


Participating Artists:

Amber Cobb

,

Orly Cogan

, Susan Gilbert,

Mari Hernandez

,

Jess Larson

, Tracy Otten,

Jennifer Pettus

,

Libby Rowe & Andrew Leo Stansbury

,

Martha Russo

,

Suzanna Scott

,

Colleen Toledano

and

Sarah Spencer White

After: Birth

Catherine G. Murphy Gallery

2004 Randolph Avenue St. Paul, MN

February 3 – March 16, 2018

Opening Reception: Saturday, February 3, 6 – 8 p.m.
---
Social Media + Art
1/23/2018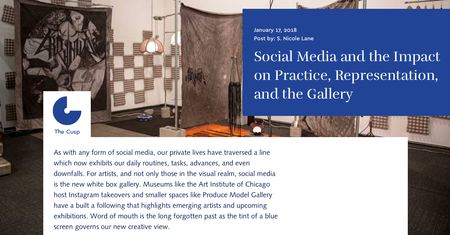 I was recently interviewed by S. Nicole Lane for Exhibitions On The Cusp, an online publication whose purpose is to propel conversations in contemporary arts. The article examines the role of social media and its impact on the studio practice of individual artists, representation and the gallery. You can read the full article here and find me on Instagram here.


---
Deemed A Canvas
1/21/2018
Artwork by Ellen Greene
,
Suzanna Scott, Danielle Clough and Ruby Silvious
Paradigm Gallery
and
HAHA MAG
(High on Art, Heavy on Antics), collaborate to bring you
Deemed a Canvas
, a group exhibition on view January 26 – February 17, 2018.
Deemed A Canvas c
hannels storytelling through a range of artistic mediums. This curation of creators takes a light-hearted look at what happens when artists break away from the starkness of white ground to explore surface with unexpected materials and unconventional methods.
Traditional mediums tossed aside; their work becomes a creatively visual opp-ortunity to converse, to find new and inventive ways of handling space, structure, and content-transforming the material so that it becomes something else than the novelty of the article itself.
Artists

Kaplan Bunce

,

Danielle Clough

,

Ellen Greene

,

My Dog Sighs

,

Bunnie Reiss

,

Brooks Salzwedel

,

Suzanna Scott

,

Ruby Silvious

, and

Jasjyot Singh Hans

use their skills and love of art to develop unique narratives.
The show's collision of perspectives offers the viewer an immersive experience into creative redevelopment that pays reverence to the foundation of concept and innovation.
Deemed A Canvas
January 26 – February 17, 2018
Paradigm Gallery / 746 S 4th Street, 1st Floor, Philadelphia, PA
Opening Reception: Friday, January 26th • 5:30pm - 10:00pm
Gallery Hours: Tuesdays, Thursdays, and Saturdays • 12:00pm – 6:00pm