SUZANNA SCOTT
IDAFT: Los Angeles
10/3/2017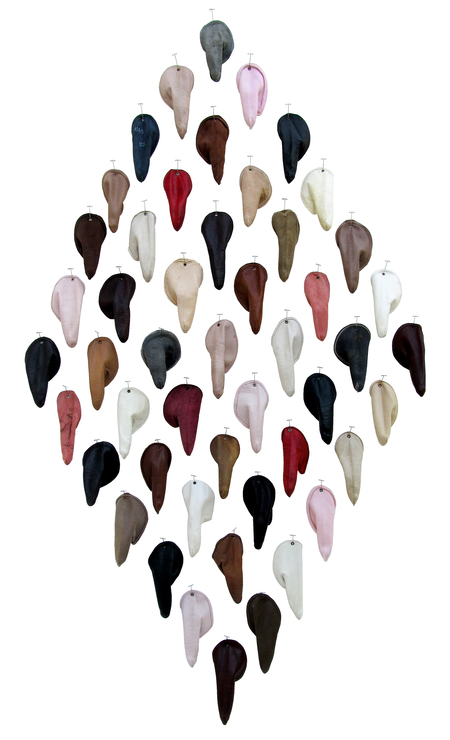 Whitney Bell's
I Didn't Ask For This: A Lifetime Of Dick Pics
is back--this time in her hometown of Los Angeles, California. She is hosting the weekend event with the goal of exposing the normalization of misogyny and confronting the issue of sexual harassment in the digital age. In addition to a Friday night
Penis Party
, featuring a plethora of unsolicited dick pics staged in the comfort of her own home,
Whitney
has invited a kickass line-up of feminists to join discussion panels on Saturday. The topics include
Feminism 101 For Men
,
Harassment In The Digital Era
and
The Intersection of Feminism & Pornography
. Shirley Manson, the front woman of
Garbage
, is one of the panelists!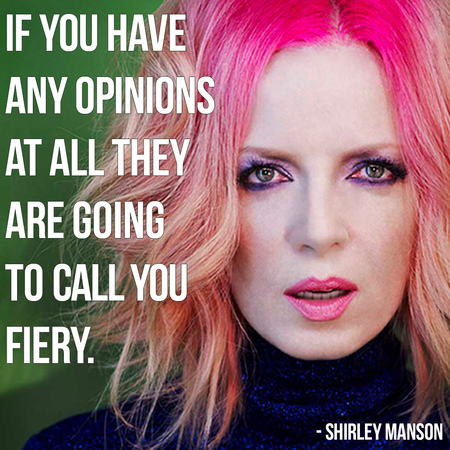 Along with the installation featuring
Whitney's
collection of unsolicited dick pics,
I Didn't Ask For This
will exhibit the work of a diverse mix of of over 20 artists who span the spectrums of gender, race, and sexuality to give an intersectional perspective to sexual harassment in the digital age. In addition to a grouping of my
Coin Cunt's
, my newest installation piece dubbed
Thumbs Down
will be making its debut.
Thumbs Down
was created using the thumbs of vintage women's gloves. It is a not so subtle statement on the flaccid performance of our pussy-grabber-in-chief.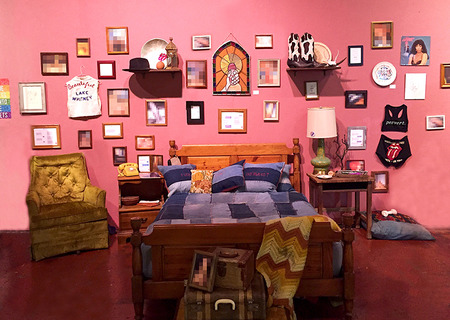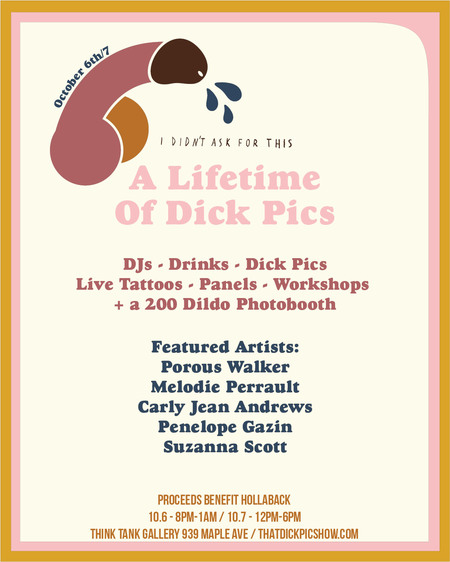 ---
Seen And Heard
9/25/2017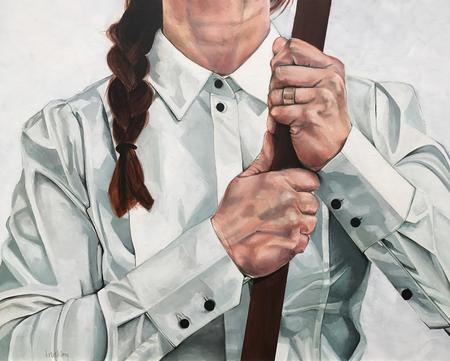 Protest
by
Lena Rushing
Earlier this year I was invited by artist and curator
Lena Rushing
to participate in
Seen And Heard
, an exhibit paying homage to the women's rights movement. Included in the exhibition are a grouping of my
Fiber Fetishes
, interactive
Bound Scissors
, and a new wall sculpture created specifically for this show titled
Out Of Reach
.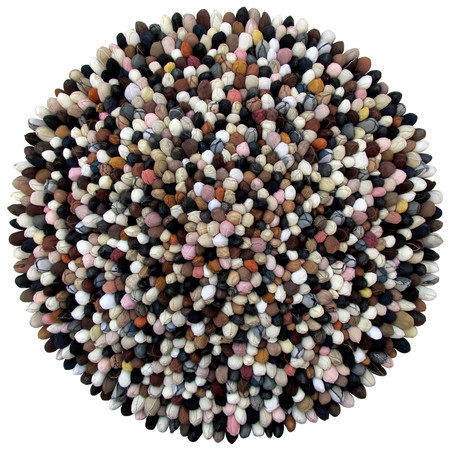 I spent the first part of the year scavenging up all the vintage women's gloves I could find in order to create
Out Of Reach
. In the sculpture, I stitched the fingers from these various gloves onto a metal grate to form a compact, round cluster reminiscent of a breast. The piece represents the hands of all the women who have strived, fought, toiled, and persisted in the ongoing fight for equality for all. We celebrate those before us and join hands as we move forward together--reaching out and shattering those glass ceilings.
Designed to celebrate the efforts and accomplishments of women, the importance of the women's rights movement, feminism, and the strength, independence, and bravery of women,
Seen And Heard
offers a powerful collection of artwork by eight nationally-acclaimed artists:
Alise Anderson
,
Donna Bates
,
Kristin Bauer
,
Gabriela Handal
,
Sara E. Morales-Morgan
,
Meryl Pataky
,
Lena Rushing
and
Suzanna Scott
.
---
---
L'Origine Du Monde
8/22/2017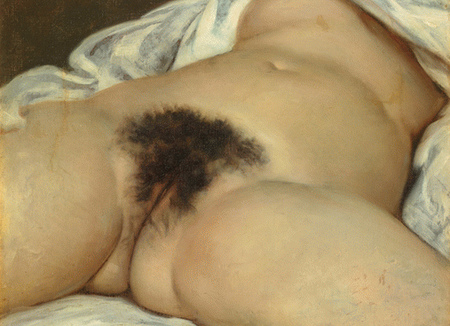 In 1866 an Ottoman diplomat commissioned one of the most infamous paintings ever by French artist Gustav Courbet:
'L'Origine du monde' ('The Origin of the World')
. The painting still to this day because of its very nature and realistic, graphic nudity, has the power to shock and trigger censorship. It pushed the idea of what is erotic, sensual and romantic to what is pornographic and unmoral.

"Eroticism is dependent not just upon an individual's
sexual morality, but also the culture and time
in which an individual resides."
- Honore' de Balzac

This exhibition brings together twenty-two artists, both local and International, with over sixty works of art ranging from painting and drawing to photography and sculpture. The show explores the ideas of sexuality, sensualism, romance, humor, innuendo and eroticism.
Exhibiting Artists:
Michael Bergt
,
Nina Covington
,
Daniel Maidman
,
Reuben Negron
, Julie Branch,
Suzanna Scott
, Colleen Lynch, Gary Masline,
Mary Ellen Riell
, Emily Lamb,
Jeanne Ciravolo
,
Jon Gernon
,
Jeff Wigman
, Yeachin Tsai,
Jilian Platt
,
Frida Castelli
,
Corey Pitkin
,
Andrea Hersh
, Rachel Gibson, Louis Braquet, Michael Bach, Chad Span
---
I Didn't Ask For This
6/5/2017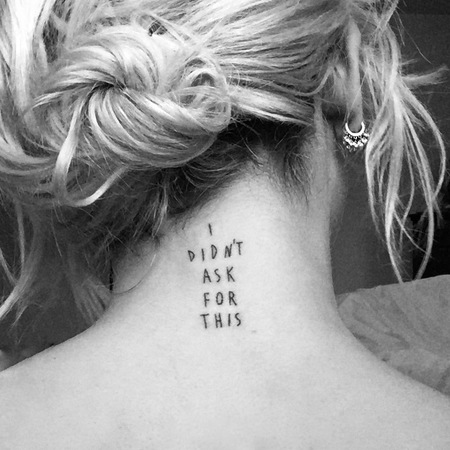 Whitney Bell
is a writer, artist, activist, fashion-designer and self-dubbed 'feminist bitch'. When she approached me about participating in this event I had to pause and re-read the intent of the exhibit before responding with a
'hell yes!'.
This conversation is a little off-putting, provocative on so many fronts and most often kept from public discourse. The content of 'I Didn't Ask For This: A Lifetime of Dick Pics' is an unsolicited collection of male groin images that have been framed up in mis-matched vintage frames and placed in a reconstructed tableau of Whitney's cozy home.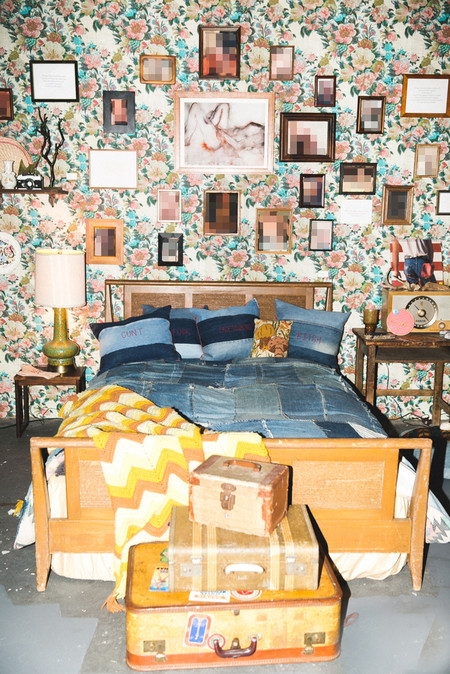 As Whitney remarks
in this interview
she wants to "demonstrate the pervasive and invading nature of digital harassment. The content is relatable to so many women, which proves the necessity of opening up this discussion. The unsolicited dick pic is horrible, but what's worse is the fact that this is how little respect many men have for women," she says. "We think we have come so far but misogyny is just a prevalent as ever — whether that be a dick pic in your inbox, or a pussy grab from the president."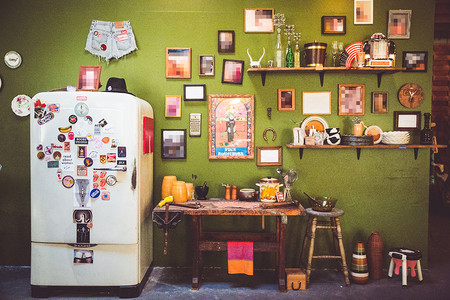 Along with the installation featuring the collection of unsolicited dick pics 'I Didn't Ask For This' will feature the work of a diverse mix of artists who span the spectrums of gender, race, and sexuality to give an intersectional perspective to sexual harassment in the digital age.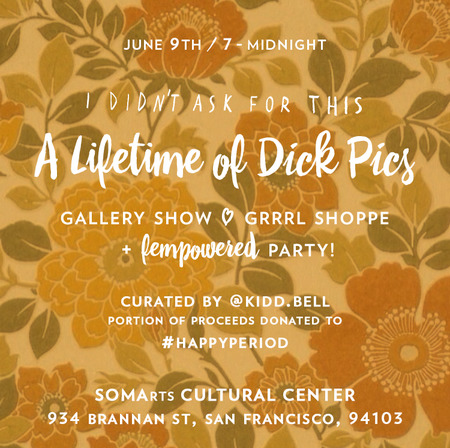 ---
Glasshouse Interview
5/30/2017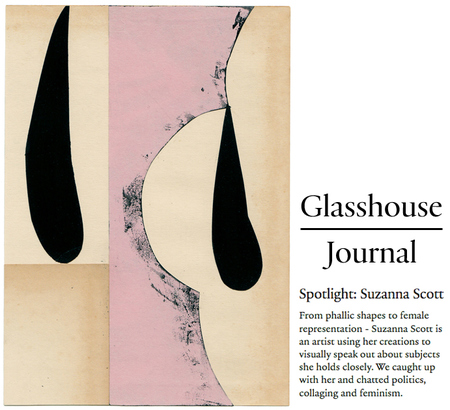 Lucy Vincent of
Glasshouse Journal
recently interviewed me over on their blog if you want to
take a peek
. The image featured here is 'Drip Drop' one of several
new collage
pieces up on my website.
---
---
Lee mis laVios
3/27/2017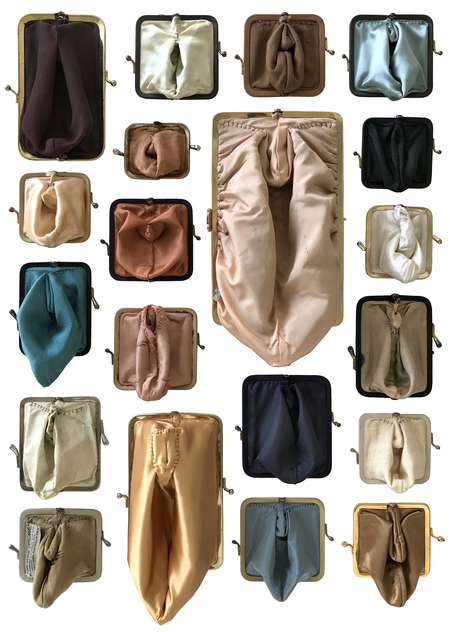 A grouping of twenty
Coin Cunts
is in Mexico City for their international debut in the exhibition
lee mis laVios
. This clever show title is a play on words meaning 'read my lips' with the capital letter 'V' symbolizing the vulva/vagina.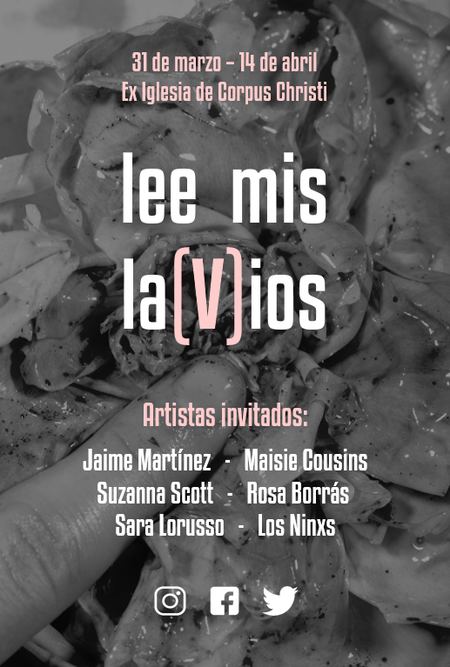 The exhibition, lee mis laVios, chooses to undress the vagina from its prejudices, fetishes and desires, aiming for the acceptance of its sexual naturalization.
Throughout traditional art history the vagina has been systematically excluded, its representations either fade under a translucent veil or are replaced by a sexless pubis. This absence of detail has transformed it into an obscene and indiscreet symbol.
The gesture of symbolizing the vagina becomes an excuse to avoid it. Masculine gaze has constructed a specific imagery around it, based on simultaneous desire-censorship and summing it up through fertility symbols, objects of desire or immoral impurities. Its materialization is either morbid or symbolic. Indeed, vaginas have lost their right to (re)present themselves.
Lee mis laVios unveils the vagina from its prejudices in order to confront it as it is. By analyzing its allegorical connections we deconstruct the structure that surrounds it.
Read my lips: a vagina is more than anything, a vagina. It does not require any validation by dignifying it through symbols. The vagina exists as it is, dignified and worthy of its being. Now it's time to make this evident.
---
Playing With Scissors
3/7/2017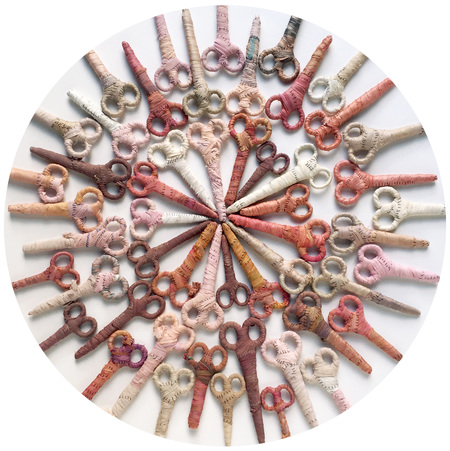 Thought I'd share a few images of my
Bound Scissors
out in the wild. Playing with scissors is a safe activity as long as they're bound and stitched up tight! I'm pleased that this interactive piece has now been exhibited in three venues, a year ago in
Touch: Interactive Craft
, this past January in
Material As Medium,
and this weekend as part of
Play
, an all media exhibition at the
SAA Collective
in Springfield, Illinois.
The exhibition
Play
was juried by by Bob Sill, a curator of art at Illinois State Museum. Play is the spontaneous, unstructured time found to foster creativity and problem-solving skills. As we grow up we tend to trivialize play and relegate it to childhood, but it's an important element of life at any age. The exhibit features work not only about play in the traditional sense, but also the idea of being in the moment, of inspiring wonder, of invoking your natural curiosity. The viewers are encouraged to interact and play with many of the pieces on exhibit.
Participating artists
are Bruce Alves, Lex Archibald, Piety Choi, Betsy Dollar, Lauren Feret, Cathy Ganschinietz, John Hayes, Tessa Martinez, Corrin Smithson McWhirter, Beth Rodgers and Suzanna Scott.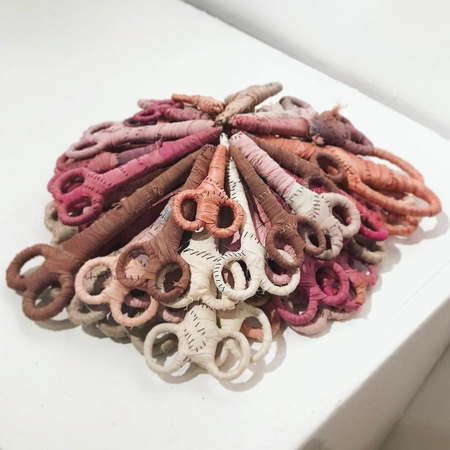 Image by Adele Stuckey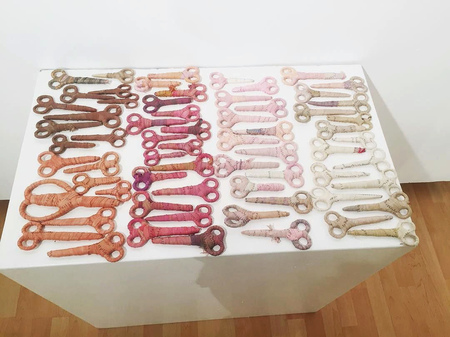 Image by Leslie Mounaime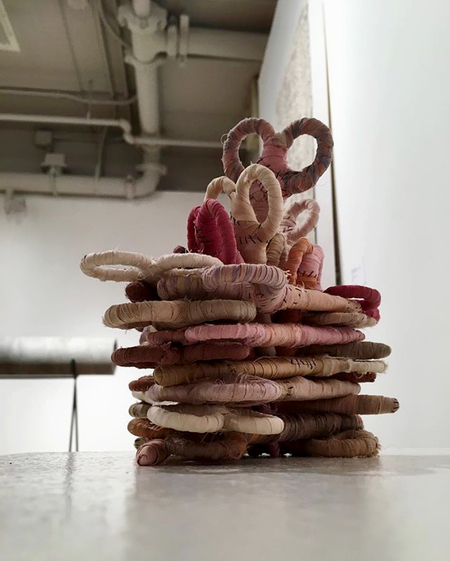 Image by Katie Riggs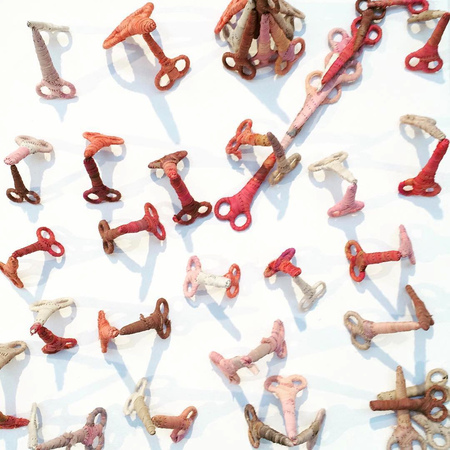 Image by Arrowmont School of Arts & Crafts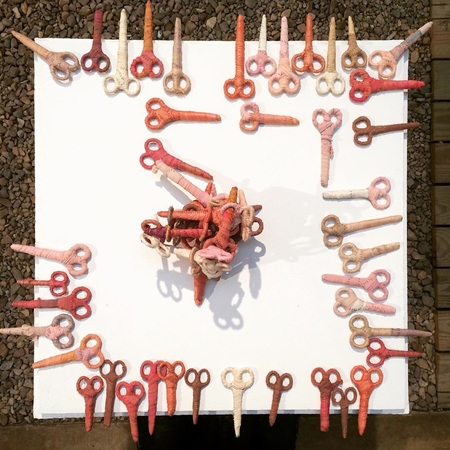 Image by Arrowmont School of Arts & Crafts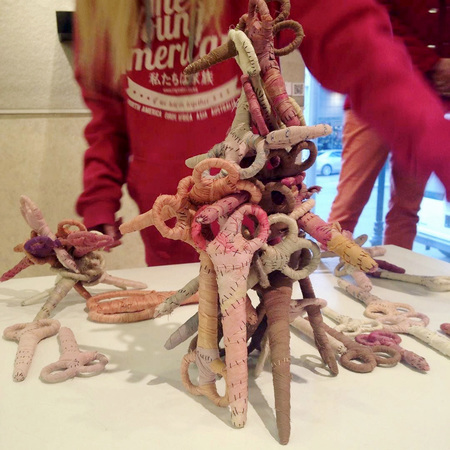 Image by SAA Collective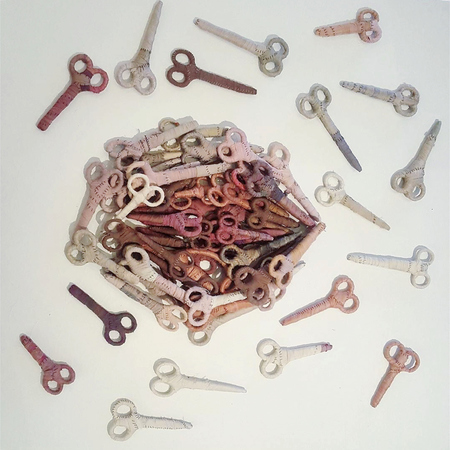 Image by Emma Wilson
A big thanks to all of you who've shared your arrangements of
Bound Scissors
via social media. #boundscissorproject
---
Duality Of Feminine
3/3/2017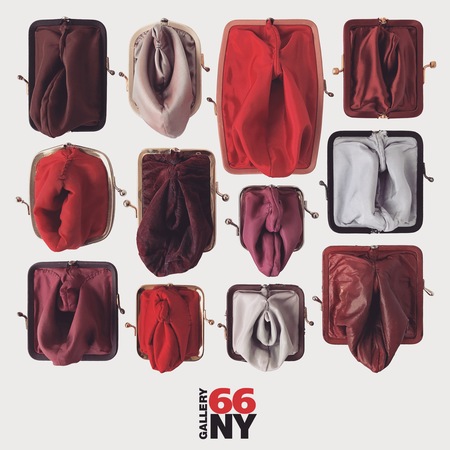 My collection of red (and a few purple) Coin Cunts will be on view during the month of March at
Gallery 66 NY
in Cold Spring, New York. The exhibition,
Duality of Feminine and Feminist
, was juried by artist/curator
Karen Gutfreund
. These are some of the questions the artists were asked to ponder:
Endless news cycles emphasize the fragmentary nature of our present society and a divided nations' opposition to a single logic or subject. With this in mind, how do women balance the duality of feminine and feminist? Should we be concerned with the manner in which a woman is portrayed as strong and/or feminine? In recent cultural movements, the ramifications of mixed gender attributes seemed to be growing in popularity yet with the recent elections and threats to women's rights in particular, are we going backwards. This ability to carry the strengths of both genders is empowering but are we now dealing with a backlash? Is the current political atmosphere an attempt to return to the stereotypical view of women as submissive and passive?

Artworks in the
Duality of Feminine and Feminist
exhibit are varied with works on paper, glass, collage, porcelain, photography, painting, fabric, assemblage, appropriated imagery and mixed media, with messages just as varied. The artists participating in this exhibit are from across the nation and include works by
Torey Akers
,
Audrey Bernstein
,
Sarah Eagen
,
Sally Edelstein
,
Leslie Fandrich
,
Morgan Ford Willingham,
Colleen Gahrmann
,
Lucy Julia Hale
,
Amy Hughes
,
Marie-Laure Ilie
,
Blond Jenny
,
Joan Lesikin
,
Lisa Levart
,
Sally Ann McKinsey Sisk
, Jillian Nalty, Landon Newton,
Antonella Piemontese
,
Jessica Putnam-Phillips
,
Suzanna Scott
,
Samantha Senack
,
Rosalind Shaffer
,
Allegra Shunk
,
Susan Singer
,
Dafna Steinberg
,
Gail Stouffer
,
Terrill Warrenburg
,
Jennifer Weigel
,
Galelyn Williams
and
Meghan Willis.
---
Wage On!
1/30/2017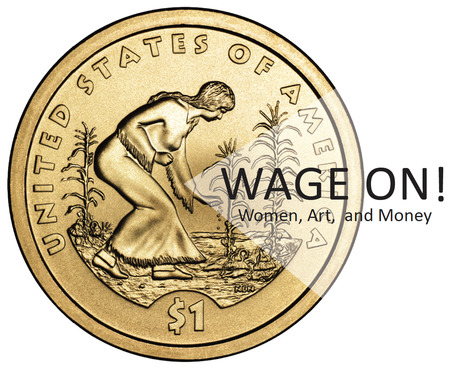 WAGE ON! Women, Art, and Money
will be the featured national exhibition of the 2017
Women's Caucus for Art
national conference in New York City. Hosted at
Ceres Gallery
, the exhibition offers a timely opportunity to address the impact of a changing political and economic landscape on women and art through the lens of twenty artists selected by juror Helga Christoffersen, an assistant curator at the
New Museum
. As she remarked:
I looked to works that took on issues of woman's work, rights, and identity today, in ways that speak to fundamental underlying issues in our society that affect us all. This exhibition is an important initiative and an example of a way to bring together a broad range of voices, opinions, and practices under a united and urgent cause.

My grouping of fourteen 'Coin Cunts' was selected to be included in the exhibition which runs through February 25th.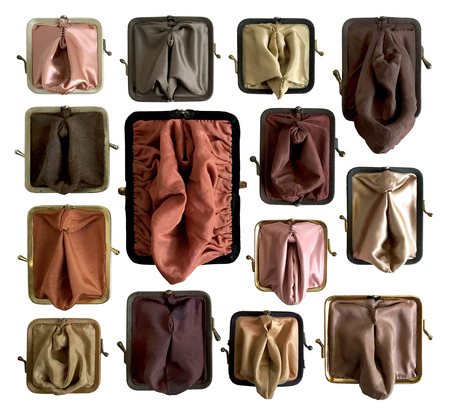 Participating Artists:
Torey Akers
,
Judy Ballance
,
Veronica Ceci
,
Pauline Chernichaw
,
Dorit Jordan Dotan
,
Palmer Earl
,
Christine Giancola
,
Julia Gutman
,
J.J. L'Heureux
,
Jessica Mieles
,
Katy Mixon
,
B St. Marie Nelson
,
Suzanna Scott
, Ember Small, Genevieve Walker,
Leslie Wallstedt
,
Jill Waterhouse
, Anna Watson,
Heather Weathers
and
Diana Zipeto
---
New Prints
1/24/2017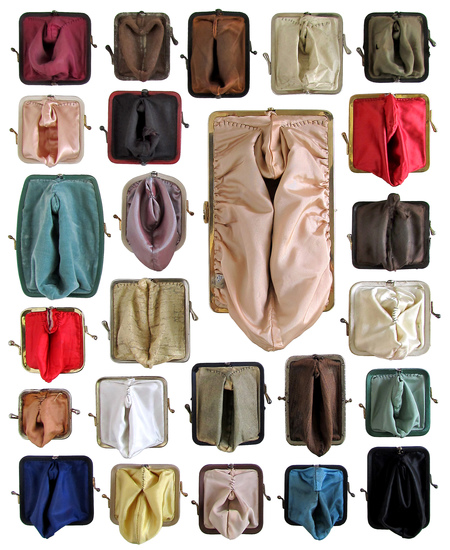 In light of recent political events here in the United States my series of
Coin Cunts
has continued to gain interest and raise awareness of women's issues on many different fronts. Women around the world are fighting back and speaking out in multitudes to challenge the rise of misogynist, racist, and ignorant rhetoric that is dominating the cycle of our lives. I continue to seek out used kisslock coin purses with colorful and/or interesting interiors to grow the collection--it currently numbers over 100 pieces!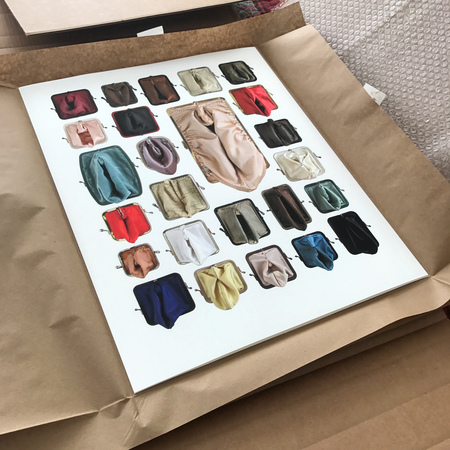 Since the first print has sold out--I've picked two new
Coin Cunt
images to make available as limited edition prints. The proceeds from these prints will continue to fund the growth of this project and its exhibition. You can purchase the
new prints here
.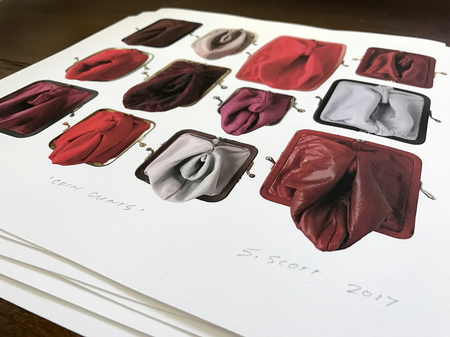 ---
Love & Empathy
1/23/2017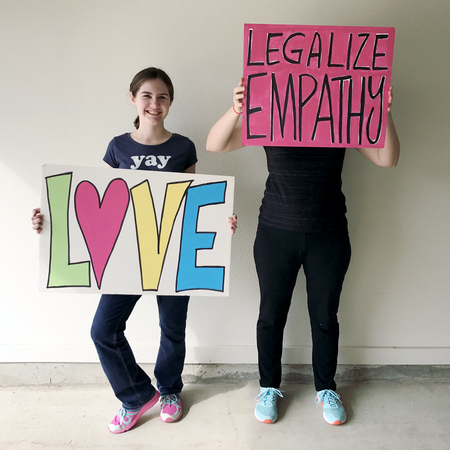 Since November 10th, these words have been ringing in my ears: "
To all the little girls watching...never doubt that you are valuable and powerful & deserving of every chance & opportunity in the world". --Hillary Clinton
On Saturday we joined with millions of
others around the world
for a "sister march" of the
Women's March On Washington
in Shreveport, Louisiana.
As we gathered on the sidewalk of the courthouse to march we met friendly folks of all generations. Many approached Lizzie to tell her they came today to march for her and for her generation. They told her they were proud of her for marching for what she believes in. They told her she was beautiful. I thank these kind strangers for empowering her.
My daughter is young and on the cusp of womanhood. She has so many questions, she is confused about the hateful rhetoric flying around the news and social media. She wants to do something to make it stop and to show love and empathy towards others.
Together we read the
mission statement
and like a wave it echoed through the crowd lined around the courthouse. Together we took a first step and we marched.
Hear our voice!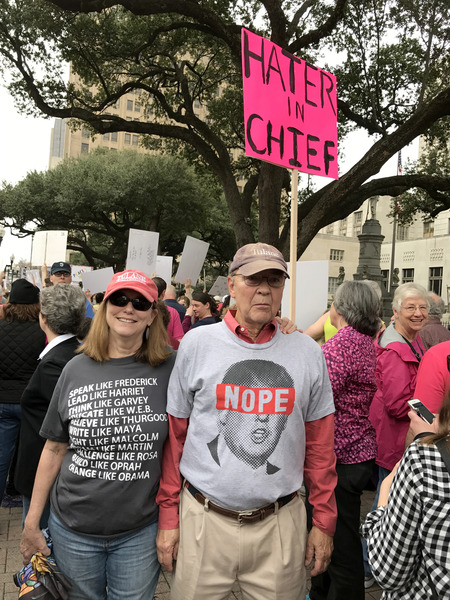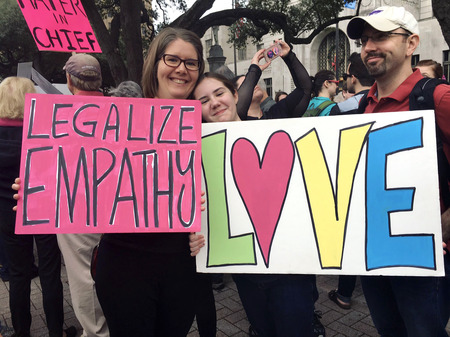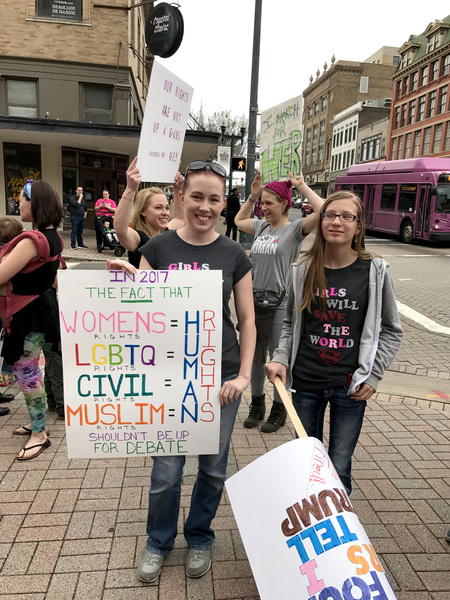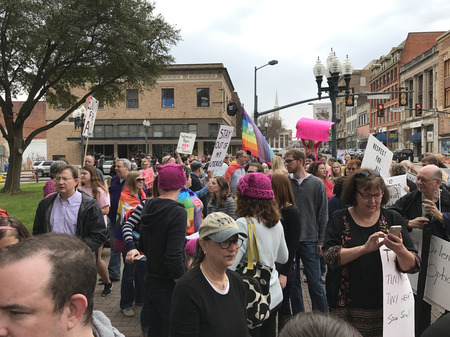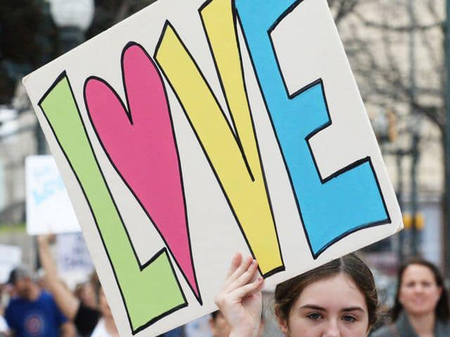 Photo credit: The Shreveport Times