SUZANNA SCOTT
Material As Medium
11/30/2016
Participating fiber artists:
Arisa Brown, Everett, WA
Lindsay Hall, Arlington, VA
Krista Heinitz, Eugene, OR
Matthew Paulson, Rockaway Beach, NY
Meaghan Westfall, Rock Hill, SC
---
Reform: Subversive Fashion
8/23/2016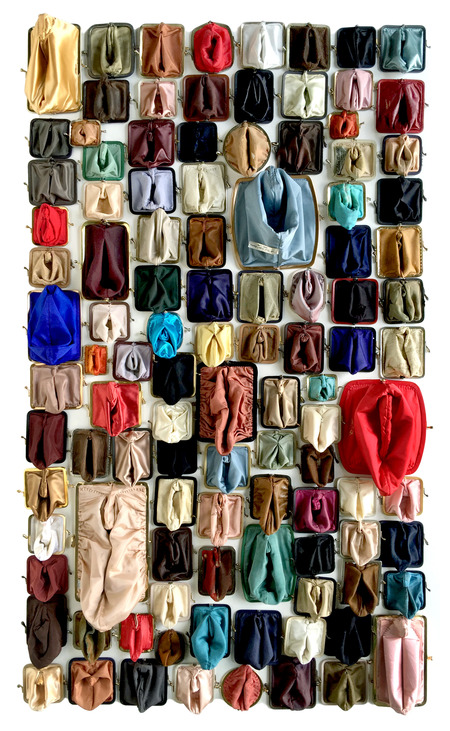 Last month I finished stitching over 100 '
Coin Cunts
' and shipped them off to Albuquerque, New Mexico. They will be included, along with work by four other artists, in an exciting counter-culture fashion exhibition opening Friday at
Central Features Contemporary Art
. This will be the largest installation of the '
Coin Cunts
' thus far.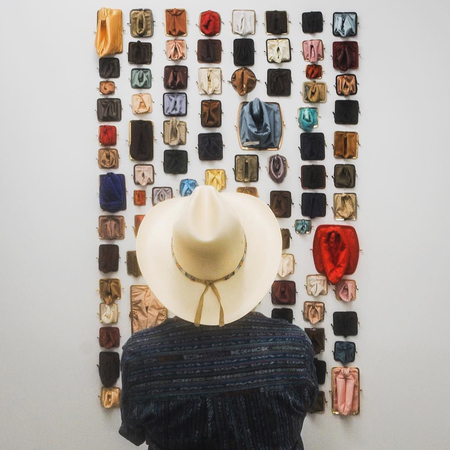 Photo by @clarkehere Clarke Condé
Missouri-based artist Suzanna Scott challenges visual and societal perceptions with Coin Cunts, a collection of coin purses. By turning each purse inside out to reveal and reform the different interior linings, Scott teases the imagination and sparks conversation about the ties amongst sexuality, gender, money, and fashion.

Nancy Zastudil, Central Features Contemporary Art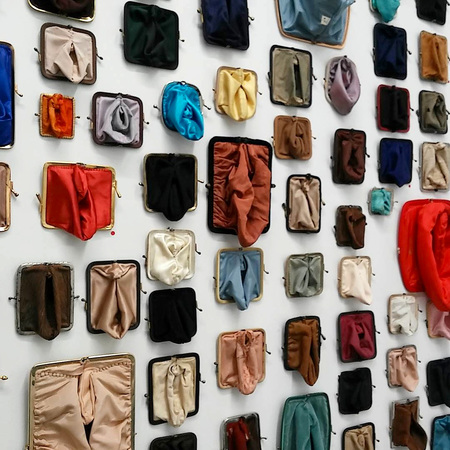 August 26 - September 30
Central Features Contemporary Art
514 Central Ave SW #2, Albuquerque, NM
Opening Reception on Aug 26th, 6-8pm
---
Fiber Options
7/13/2016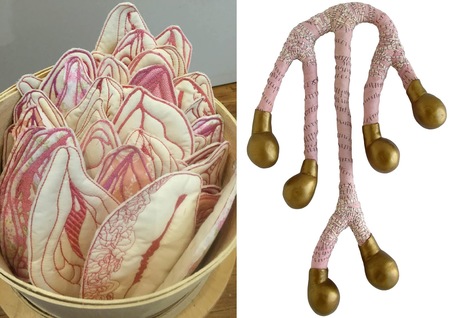 Cheese Box of Vulvas
by
Susan Hensel
and
Plexus
by
Suzanna Scott
MFA Circle Gallery
Annapolis, Maryland
July 14 - August 6
Opening Reception: July 24th, 3-5 pm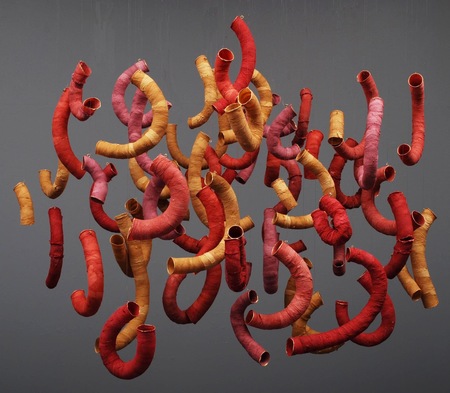 Getting To Quiet by Laurie LeBreton


From hand-knit pieces felted into sculptural monuments to video monitors shrouded in hooded sweatshirts, the options in fiber are limitless. Combining an array of materials, both traditional and unexpected, with historic to digital techniques, the artists of Fiber Options: Material Exploration exhibit artistry, innovation, and emotion. Precisely pieced quilts, meticulously knotted vessels, and delicately dyed silks are a few examples of the supreme skill and dexterity employed over countless hours by these artists. Oftentimes, several skills appear in a singular piece: stitched still lifes on hand-dyed cotton or fabric and thread encased in encaustic, all demonstrate supreme artistry.

Innovation commingles with tradition in a quilt deliberately severed into quadrants or sweetly stitched flowers paired with a expertly embroidered dead cockroach. Several artists reinvent conventional notions of fiber art by including unexpected materials. Typewriter ribbon and VHS cassette tape replace wool and linen in woven constructions. Fiber is no longer precious with roofing nails driven into silk and sticks set afire dangerously near hand-painted ropes. Technological advances provide artists with the ability to print on fabrics and digitize embroidery, opening up new options in the world of fiber.

Beyond the tangible, emotion and character can be observed in the stab of the needle, throw of the weaving shuttle, submersion of fabric into dye, and sometimes, sorrow and devastation literally spill forth onto the floor. Steadfast resolve surfaces in a hyper-realistic embroidered black eye while vulnerability lingers in a threadbare cloth. Clothing carries deep-rooted symbolism—a hooded sweatshirt, a bridal veil, a Hijab—and immediately conjure a range of emotions and viewpoints.

Fiber speaks to us in so many ways. It can be intricately detailed or all encompassing, traditionally constructed or surprisingly innovative, intimately displayed or globally outspoken. The options in fiber are endless.

Susanna Fields-Kuehl, juror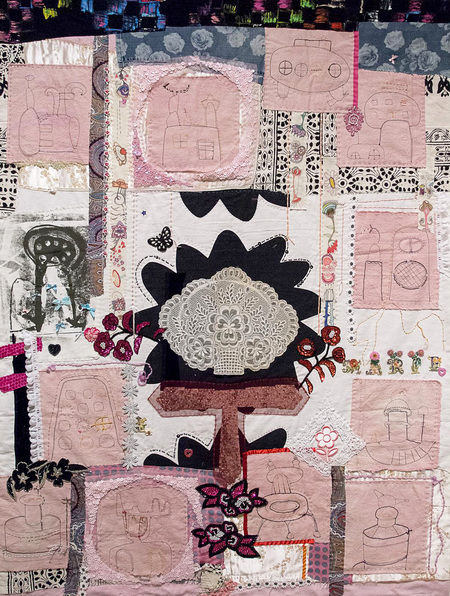 Big Flower
by Lisa Marie Barber
---
Coin Cunt Print
5/24/2016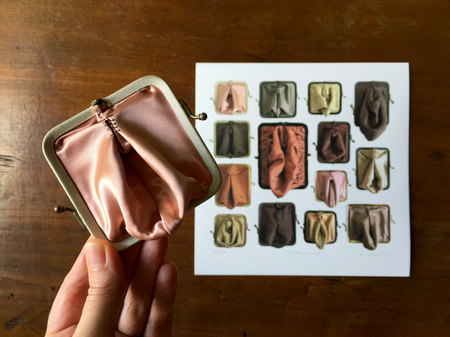 The '
Coin Cunt
' project began innocently last summer when I was playing around with an old coin purse. I flipped it inside out, and saw a vaginal form emerge from my playful pinching and tucking. Using a needle and thread I stitched it into place. As I thought about it, I found so much association between the little pocket-like forms and the inferred suggestions that these new objects brought to mind.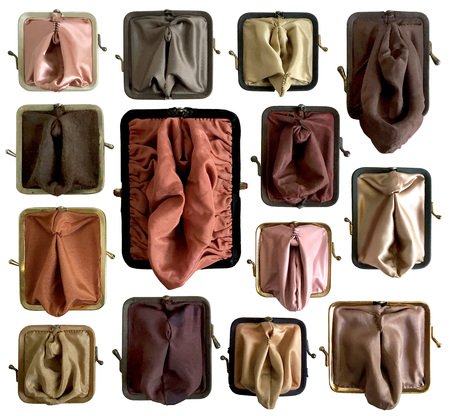 I began sharing the 'Coin Cunts' on social media and am amazed at the feedback it has provided. With a simple alteration these ubiquitous objects became evocative and their appeal provocative when I dubbed them 'Coin Cunts'. Aside from the chuckles, I've found that others can see in this project our assumed cultural associations of money and women, prostitution, female genital mutilation, suppression of women, gender equality, body image ideals, equal pay and the list continues to grow.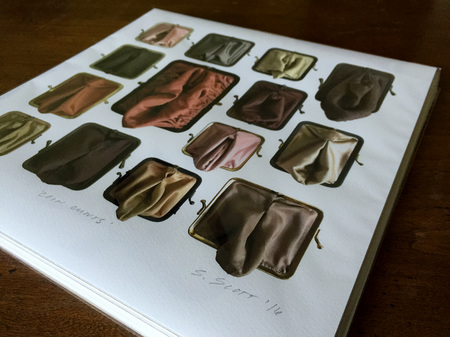 Ever since the 'Coin Cunt' images began making their rounds on social media I've had to turn down numerous purchase requests. My goal with this project is to grow the collection until I have a large installation of 100 or more. In order finance the rest of this project and give you an opportunity to enjoy this image on a daily basis I'm offering a limited edition of 25 pigment prints for purchase.
---
Quicksand
4/28/2016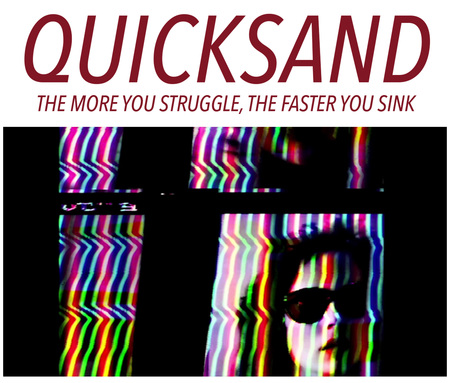 Josh Stone, SV#3B, 2015, HD Video.
Another venue for a second grouping of my Coin Cunts presented itself this month:
QUICKSAND,
a pop-up exhibit at the
New Art Center
in Newton, MA, features work that disrupts expectation by erasing, covering, and fracturing the human form, asking broader questions about the spectrum of cultural visibility. Through the lens of a fragmentary experience, the body becomes an allusion, goes missing, or is present as a mere impression. The figure on view here is unstable, like quicksand, and contends with the boundaries of identity, territory, and the negation of the body through technology.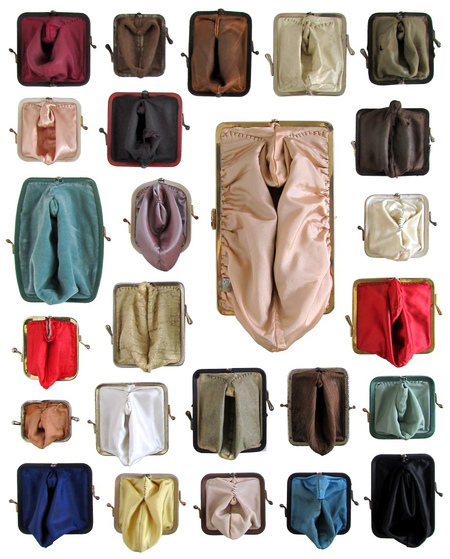 April 29 - May 8, 2016
Reception: Friday April 29th, 6pm-8pm
Featured artists include Salome Asega, Casey Ausman, Bashezo, AK Burns, Carlos Jimenez Cahua, Caleb Cole, Furen Dai, Allison M. Disher, Janet Loren Hill, Pope L., Curtis Mann, Susan Metrican, Alyssa Minahan, Landon Newton, Diana Jean Puglisi, John Robert Roy, Suzanna Scott, Corinne Spencer, Josh Stone, Triiibe, Xtina Wang, Xu Wang, Joe Zane
The exhibit has been organized by the Massachusetts College of Art and Design's Graduate Seminar in Curatorial Practice class taught by Dina Deitsch.
---
The Female Complex
4/13/2016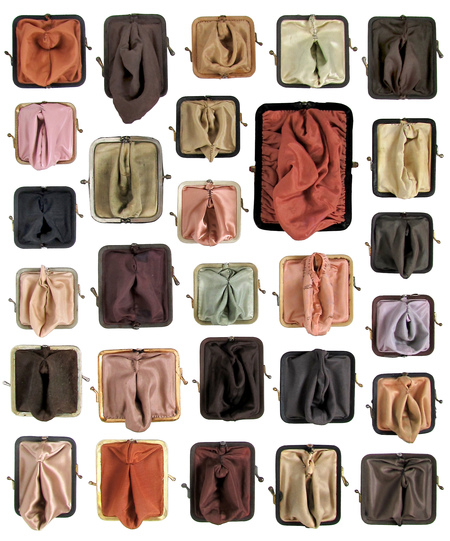 My
Coin Cunt
collection has taken on a life of its own thanks to the wonders of social media. I've been invited by artist, Kristin Mahan to participate in
The Female Complex
at the
University of Nebraska-Lincoln
where these twenty-eight fiber pieces will be making their debut. The vaginal shaped works are sculpted from inside-out coin purses.

Feminism is nothing new-it has been around for more than a century-so why is it still so important to this day? As society progresses and the older waves of feminism accomplish much of what they set out to do, problems that were always there but never dealt with have begun to rise to the surface. "The Female Complex" will present the multiplicity of the emerging wave of feminism through contemporary art. Each of the 12 artists presented uses personal experiences to inform their work, which allows the work to be honest. The wide variety of mediums and subject matter in this exhibition will form a dialogue that reflects the diversity of issues placed under the umbrella of this developing feminist movement.

Kristin Mahan, curator
Participating artists include
Samantha Aasen
,
Brooke Denton
,
Jeanne Donegan
,
Tessa Edgren
,
Lisa Guevara
, Sheree Haynie,
Katie Hovencamp
, Kayla Linden,
Roberta Malkin
,
Sidney Mullis
, Claudia Rose, and
Suzanna Scott
.
---
Ignoble In Between
4/5/2016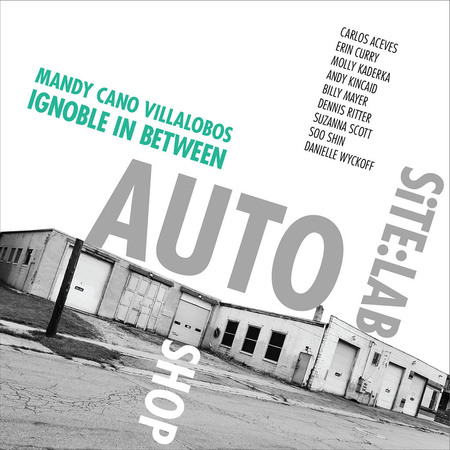 Six of my
Fiber Forms
were selected by artist
Mandy Cano Villalobos
to be included in an exhibition at a
SiTE:LAB
event in Grand Rapids, Michigan. The exhibit,
Ignoble in Between
is based upon the mundane gaps that occupy the space between when we are born and when we die, the exhibition exploring the idea of beauty as a by-product of happenstance.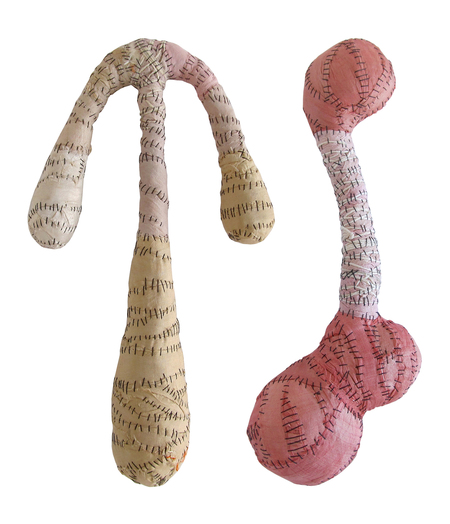 Though we long for the heroic, for our friends and followers to "like" (or heart) our significant contributions to internet society, though we yearn for some sort of affirmation that we really matter within the larger context, it is everyday tedium that dominates our time. Our days are filled with to-do lists, dirty clothes, longings that will never be fulfilled, and bad breath. The artists of Ignoble in Between embrace the mundane passage of time, reveling in transient thoughts and physical decay, with happenstantially beautiful results.

Mandy Cano Villalobos, curator
333 Rumsey St SW, Grand Rapids, Michigan
Saturday, April 9th, 12-9 pm
---
Women In The Arts
3/1/2016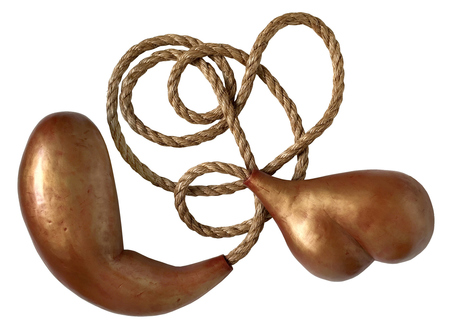 My rope sculpture,
Raw Guts
, will be included in the 23rd annual
Women in the Arts
show highlighting the work of sixteen talented women artists. In conjunction with Women's History Month at the
University of Missouri
, the
Craft Studio
presents this exhibit as a tribute to women, past, present, and future whose artistic creations are often overlooked and forgotten.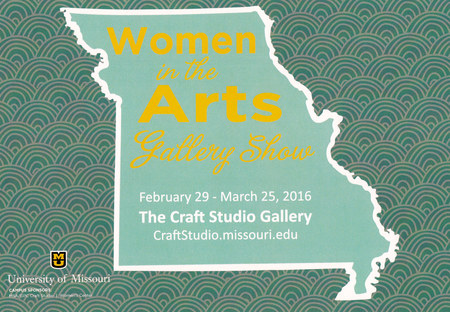 The artists of this exhibition have, like all good artists, made what they know. Their experiences, methods, and styles are diverse and lovely. Georgia O'Keeffe wrote, 'I find that I have painted my life, things happening in my life – without knowing it.' I am encouraged and impressed that the women showing work here have dealt boldly with the imagery of their lives.
Hannah Reeves, Juror
Monday, February 29th – Friday, March 25th
Reception: Thursday, March 3rd, 4 pm– 6pm

Participating artists include Hannah Arslanian, Jessica Bremehr, Valerie Deveraux, Lisa Franko, Sarah Goodnow Riley-Land, Jennifer Halli, Kaitlin Hermann, Carina Jimenez, Hae-jung Larsen, Sheri Parker, Nicole Pratte, Shirin Rastin, Kest Schwartzman, Suzanna Scott, Rhonda Thomas-Urdang and Sabrina Tinsley.
---
Draw The Line
2/22/2016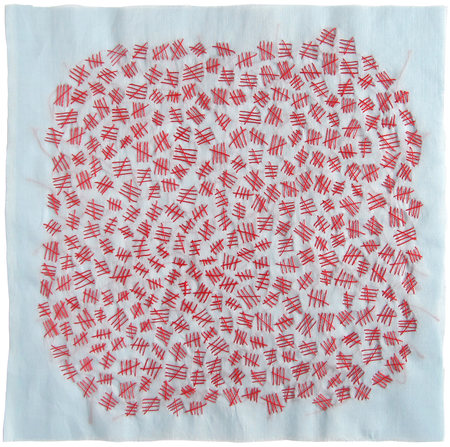 There are 1,865 tally marks embroidered on this light blue cotton square. I'm mailing it off today to join with others in speaking out for the reproductive rights of women. It will be one of many squares in a collaborative quilt being created to raise awareness for
Whole Woman's Health v. Hellerstedt
and the 5.4 million women of reproductive age in TX. Read more about the ambitious project that artist
Chi Nguyen
has envisioned to make a physical tally of women whose right to safe and legal abortion is currently at risk. With each stitched line representing an individual woman, the
5.4 Million and Counting
project is only finished when all 5.4 million lines are embroidered. Many more quilt squares are needed! Details of how to participate
here
.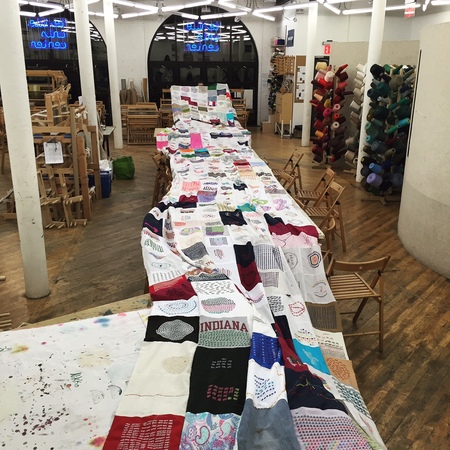 A portion of the quilt being stitched together at the
Textile Arts Center
in New York with 300,000 embroidered lines in just 3 weeks and submissions from 34 states and 6 countries
. Photo by Chi Nguyen.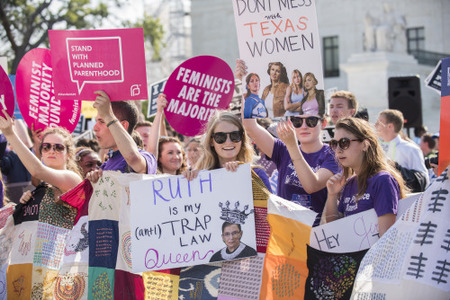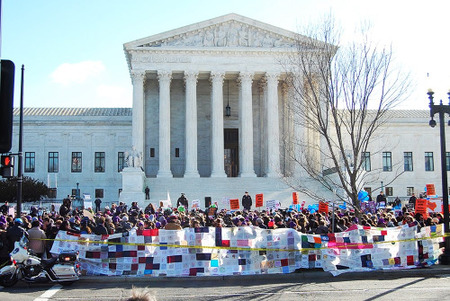 The
5.4 Million and Counting
quilt held by brave women and men who came out to defend our constitutional right to abortion in front of the Supreme Court House on March 2nd, 2016.
Photo by Chi Nguyen.
---
Touch: Interactive Craft
1/11/2016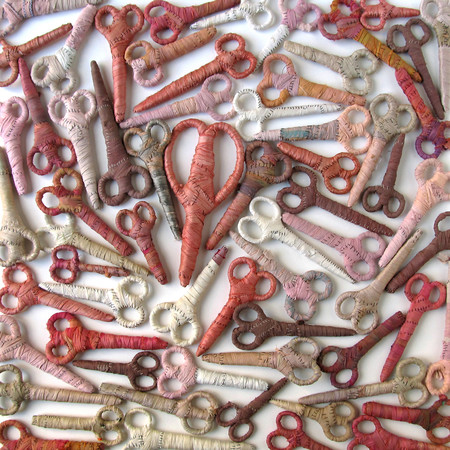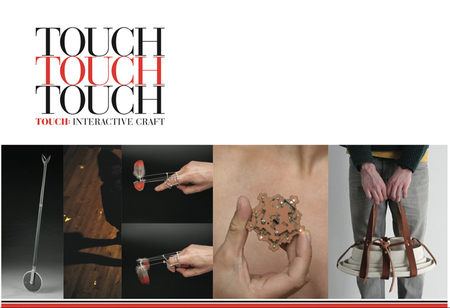 I'm pleased to announce that my collection,
Bound Scissors,
will be included in an upcoming exhibit at the
Arrowmont Galleries
in Gatlinburg, Tennessee.
Touch: Interactive Craft
will be a unique experience as the premise of the exhibit is to encourage the viewer to touch and interact with the work.
Touch: Interactive Craft
January 16 – March 11, 2016
Opening reception: Friday January 22, 5:00 – 8:00pm, Juror Talk at 7:00pm